Would Meghan Markle And Prince Harry Be Allowed To Marry In The Church Of England?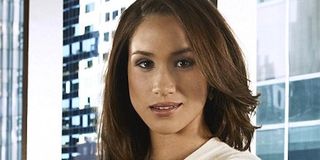 Prince Harry and Meghan Markle have yet to sit next to each other at a public event, but their love is no secret. In fact, the Suits actress reportedly ruffled the feathers of royal advisers this year when she called Prince Harry her boyfriend in an interview. Now captivated onlookers cannot help but speculate what might happen. Forget the first public appearance. People want to know when these lovebirds might get married, how such an arrangement might unfold, and what it might mean for Prince Harry's place in succession for the crown. After all, Meghan Markle is a divorcée, and an American to boot. Regardless, it appears they could marry in the Church of England if they did choose to take the plunge.
Previously, the Church of England warned the royal family never to marry a divorcé. However, it has happened several times. For instance, Edward VIII abdicated the throne in 1937 to marry Wallis Simpson, an American divorcée. Decades later in 2002, the Church of England recognized there are times when marriages end for good reasons, and a divorcé should be allowed to remarry. Around then, Prince Charles and his second wife, Camilla, Duchess of Cornwall, herself a divorcée, married in a civil ceremony. Therefore, it most likely would not be a problem for Prince Harry to marry Meghan Markle even though between 2011 to 2013 she was married to director Trevor Engelson, whom she had dated for several years before the marriage. Moreover, the union probably would not affect Prince Harry's spot in line for the crown.
Some people wonder if there would be a religious discrepancy that might prevent Prince Harry from marrying Meghan Markle. A British law from years ago kept anyone Catholic from marrying into the royal family. Luckily, there are no rules like that today. In 2013, the law changed and allowed for anyone in the line the of succession to the crown to marry a person from any religious background as long as they get permission from the monarch. Therefore, the outdated rules about religion would not apply today if Prince Harry asked Markle to be his wife. But even if there were rules in place, it is not clear if Markle has a religion. She went to a Catholic school, and her first wedding had a Jewish ceremony to honor her first husband's faith, but there is no clear indication about what Markle believes today.
Other questions remain, as some people want to know what kind of ceremony Prince Harry and Meghan Markle might get if they marry. For example, People called in experts who had they most likely would have a ceremony that resembled Prince Charles and Camilla's wedding, and they might get a service of blessing at St. George's Chapel at Windsor Castle, where other relatively low-key ceremonies have happened. Furthermore, Archbishop of Canterbury Justin Welby would probably have no issues marrying Prince Harry and Markle. He took issue with marrying Prince Charles and Camilla, but times have changed, so experts seem to think it would be probably be okay and the couple could get whatever wedding they might want from the Church of England.
Still, Prince Harry and Meghan Markle are having a great time in the first years of their budding romance, and Markle has made it clear that they are taking this opportunity to fall in love on their terms. So, who knows what they might do? The media has long portrayed Prince Harry as the rebellious younger brother of Prince William, and Markle is a Hollywood starlet with fun-loving sensibilities. Maybe they will surprise everyone and elope one day. But first things first, let's see them attend an event together and sit side by side.
Your Daily Blend of Entertainment News
Your Daily Blend of Entertainment News
Thank you for signing up to CinemaBlend. You will receive a verification email shortly.
There was a problem. Please refresh the page and try again.