Kourtney Kardashian Refutes Claims That She's Pregnant Again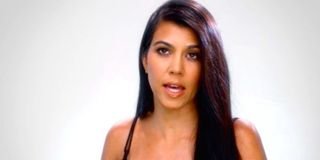 Kourtney Kardashian recently made headlines when a magazine reported her saying "I'm pregnant." According to the 38-year-old mother of three, the tabloid pulled the quote from a different context and ran with it as the selling factor. Kardashian was none too pleased with the result. The reality television personality hopped on social media and called out the magazine for misleading readers:
Then Kourtney Kardashian clarified the rest of the story. She tweeted a mic-drop explanation of the question and the real response:
Boom! The Kardashians do not let people trample their narratives unless they are sitting on a story to reveal it on Keeping Up with the Kardashians. Then they sometimes allow the press to run with false accounts so that they can explain "the real story" down the road. That might be why Kylie Jenner has not confirmed or denied her pregnancy, though reports say she is six months along.
In fact, the Kim-Khloe-Kylie pregnancy trifecta most likely fueled the decision by Grazia to run a story about Kourtney Kardashian saying, "I'm pregnant." The magazine even set up the article in a way that suggested the reporter knew how significant it would be if Kardashian were pregnant.
After all, Kim Kardashian and Kanye West are getting ready to have their third child via surrogate. Khloe Kardashian and Tristan Thompson will welcome their first child together next year. All signs say Kylie Jenner is expecting a little one with Travis Scott. Thus, another KUWTK cast member having a child would be big news for fans of the show.
Plus, it would open up a can of worms. People would wonder about Kourtney Kardashian's new man and ask about the well-being of Scott Disick since his stint in a psychiatric ward. It would be great for tabloids, but the fact is Kardashian most likely is not pregnant.
First, the writer reports Kourtney Kardashian's statement was, in fact, a joke. The story opens with the "I'm pregnant" line for shock appeal, but it does say that Kardashian backtracked and insisted she was just joking. Secondly, consider the recent family picture the KUWTK crowd took after filming at an ice rink with Nancy Kerrigan. In the photo, Khloe Kardashian went barefoot on the ice most likely as a safety precaution, and Kylie Jenner sat out of the picture perhaps because she would have felt pressure to go barefoot, a giveaway of her pregnancy. Meanwhile, Kourtney Kardashian confidently wore stilettos.
Kourtney Kardashian defending herself on Twitter and wearing heels on the ice should be strong indications that she indeed is not expecting a fourth child. But, hey, stranger things have happened. Either way, it is great to see her sticking up for herself and keeping interviewers accountable.
Your Daily Blend of Entertainment News