The Fun Way The Kardashians Got Into The Christmas Spirit Early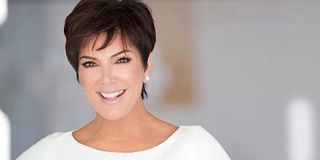 It is not yet Halloween, but the Kardashians are already gearing up for their Keeping Up with the Kardashians Christmas special. Or should we say "Khristmas" special? Family matriarch Kris Jenner shared a social media picture of the reality television family wearing wintry clothing and ice skates for a day on the ice with Olympic figure skater Nancy Kerrigan. Jenner included an amusing caption to let everybody know the real story behind their reality TV holiday extravaganza. Take a look:
Kris Jenner evidently appreciated how goofy it was that they were all outside in the California heat for a day on the ice. Poor Nancy Kerrigan must have been frightfully hot in the jeans and fluffy white turtleneck she wore. On the other hand, it appeared everyone else received the memo it would be a hot day. Kendall Jenner's fun asymmetrical dress gave her breathing room, while Kourtney Kardashian and Kris Jenner went with cocktail dresses and tights. Moreover, Kim Kardashian and Khloe Kardashian went extra short with their outfits. While Kim Kardashian bared some midriff, Khloe Kardashian showed off up top.
Did you notice the absence of shoes on Khloe Kardashian's feet? Many people in the comments for Kris Jenner's Twitter photo are wondering if the Revenge Body star opted not to wear the skates because she is expecting her first child with Cleveland Cavaliers player Tristan Thompson. Reports say Kim Kardashian also has a child on the way; however, she could wear heels because she and Kanye West acquired the help of a surrogate this time around.
Speaking of allegedly pregnant KUWTK castmates, Kylie Jenner participated in the filming of the Christmas special. But People says Jenner dipped out of the picture with Nancy Kerrigan because the Life of Kylie celebrity wanted to take it extra easy now that she is about five months pregnant, though she has not confirmed it. In fact, it is possible Jenner chose not to join the family on the ice because she would have felt obligated to follow Khloe Kardashian's lead and go barefoot as a safety precaution, which might have been a giveaway Jenner is pregnant.
Similarly, some people wonder if Kylie Jenner sat out the photo because her baby bump is beginning to show. Usually, when the family has big news, they conceal as much as possible until they can talk about it on KUWTK. Therefore, it would make sense for her to take the bench until the timing is right and the family can talk about it on TV.
Despite Kylie Jenner's absence from the photo, it seems everybody had a fun time during the filming. Kim Kardashian later tweeted,
It is funny to see pictures like this one and think about how TV shows film their episodes months in advance of their intended airdate. It must have been surreal for the famous family and their new Olympic medalist friend to spend time with Santa Claus and his pals at a time when many people are still putting together their Halloween costumes, enjoying Pumpkin Spice products, and watching scary movies. We'll have to keep an eye out for the Christmas special when it airs later this year.
Your Daily Blend of Entertainment News
Thank you for signing up to CinemaBlend. You will receive a verification email shortly.
There was a problem. Please refresh the page and try again.