We May Finally Know The Gender Of Khloe Kardashian's New Baby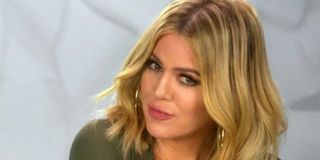 The rumor mill is full of reports saying Khloé Kardashian and Tristan Thompson might know the sex of their future child. According to various entertainment news outlets, Kardashian and her 26-year-old Cleveland-Cavaliers-basketball-player boyfriend are expecting a baby boy. Here is what we know.
Supposedly, Khloé Kardashian is about 22 or 23 weeks along in her pregnancy. As US Weekly tells it, the 33-year-old Revenge Body celebrity stopped by Cedars-Sinai Medical Center in Los Angeles, California, about two weeks ago for her 20-week checkup. Since then, word has made its way to People that Kardashian and Tristan Thompson might be giving little Prince Thompson a younger half-brother.
Earlier this year, Khloé Kardashian gushed about Tristan Thompson in interviews. Kardashian said she would marry Thompson if he proposed to her, and she mentioned that she hoped to become a mother of a large family thanks to the example her mother, Kris Jenner, set for her. Nevertheless, Kardashian said she was not in a hurry to get pregnant right away, and she was enjoying the feeling of easing into her job as a role model for Thompson's baby.
But if reports are accurate, Khloé Kardashian's dream of becoming a mother should come true sooner than later, and with a little guy of her own. Although the news was a pleasant surprise, it might not have been an utter shock. Kardashian did say on KUWTK that she had gone off birth control due to what she thought were signs of fertility problems. On the season finale of KUWTK season 13, Kardashian even revealed that Thompson hoped to have five or six children in total. Kardashian said that idea seemed "lovely," but she was not ready to get ahead of herself. She explained,
Luckily, Khloé Kardashian did not get stuck there. She now is one-third of the 2017 KUWTK baby boom. In addition to the speculations about Khloé Kardashian and Tristan Thompson's growing family, we know Kim Kardashian and Kanye West are expecting their third child via surrogate. Plus, Kylie Jenner and Travis Scott allegedly have a baby girl on the way. Reportedly, all three births should happen in early 2018, so it will be fun to see the cousins growing up with one another.
Your Daily Blend of Entertainment News
Your Daily Blend of Entertainment News
Thank you for signing up to CinemaBlend. You will receive a verification email shortly.
There was a problem. Please refresh the page and try again.