LFO's Devin Lima Has Stage 4 Cancer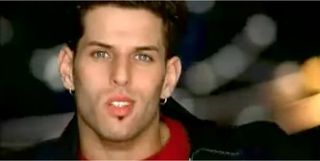 New reports confirm Devin Lima, one of the three members of the late-'90s boy band LFO, has a rare adrenal cancer in stage 4. On October 30, Lima's bandmate, Brad Fischetti, released a video announcement online to talk about the diagnosis and share some information about the treatment Lima received. In the video, Fischetti thanked people for sending kind words of support after he and Lima revealed Lima had surgery in the middle of October to remove an adrenal gland tumor. Then Fischetti explained,
Brad Fischetti shared the announcement on LFO's Instagram. It was the third video update about Devin Lima's surgery to remove an adrenal gland tumor. View the full video here:
On the same day as Brad Fischetti's announcement, Devin Lima's representative, Alaina Bendi, released a statement via Us Weekly on behalf of her client. Bendi made it clear the surgery was a success, but the healing and vigilance are not over. She explained,
As mentioned, Brad Fischetti has updated fans and followers on Instagram with other updates in the days since Devin Lima had his medical procedure. For example, Fischetti uploaded a picture on October 20 and included a caption that said Lima was feeling a little bit better and even walked around his hospital room at one point:
Then on October 22, Fischetti uploaded another photo with his LFO bandmate but explained that Lima was "in a tremendous amount of pain" that day. At that time, neither Fischetti nor Lima knew the diagnosis would ultimately be cancer:
Sadly, Devin Lima is the second LFO member to battle cancer. The group's third member, Rich Cronin, died of leukemia in 2010. A decade prior, LFO topped the charts with their most famous song, the pop hit "Summer Girls" from 1999. Brad Fischetti and Devin Lima continued making music together at different times over the years and this year even released a song called "Perfect 10," which they dedicated to Rich Cronin.
The news about Devin Lima's diagnosis is terribly sad, but it sounds like he is surrounded by love and support from family, friends, and even fans. We'll be keeping Lima and his family in our thoughts as he moves through the days ahead.
Your Daily Blend of Entertainment News
Your Daily Blend of Entertainment News
Thank you for signing up to CinemaBlend. You will receive a verification email shortly.
There was a problem. Please refresh the page and try again.