How Kim Kardashian And Kanye West Are Working With Their Surrogate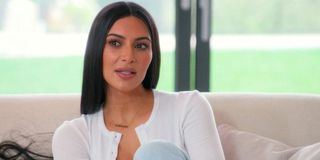 Kim Kardashian and Kanye West will welcome their third child via surrogate in early 2018, and the expectant parents seem pumped. In fact, Kardashian recently hosted a baby shower with a chic cherry-blossoms theme to celebrate the child's upcoming birth. Both Kardashian and West are perfectionists who strive to keep their life on lockdown; however, they are taking a different approach to working with their surrogate, a twentysomething from Los Angeles. Apparently, Kardashian and West want not to hover over her, because they want to give her space. In a recent interview, Kardashian opened up about how "different" this experience has been from her past pregnancies. She explained that she is trying to go with the flow and said,
Kim Kardashian says she "hated" her pregnancies with her four-year-old daughter, North West, and her one-year-old son, Saint West, but "hate" might not be a strong enough description. The fact of the matter was that Kardashian's pregnancies each came with life-threatening health complications. Kardashian underwent several surgeries to repair her uterus, and in the end, her physician informed her she no longer could carry children, though her eggs remained viable. Turning to surrogacy was not an easy decision, and she and Kanye West exhausted a slew of options before asking a surrogacy agency for help. Kardashian told Entertainment Tonight,
Regardless, Kim Kardashian said she recognizes how lucky she is to live in a day and age when people have access to technology that makes surrogacy possible. However, Kardashian explained some aspects remain hard to reconcile. For example, Kardashian said being pregnant helped her prepare for her first two children, but this time around there are moments when she feels unprepared. Kardashian said she even forgets there is a baby on the way from time to time. Yet, according to a source for TMZ, Kardashian and Kanye West took the time to make the nursery just right, so they should be doing fine.
Kim Kardashian and Kanye West know they are not the only ones who have to make adjustments. North West and Saint West also have to make changes. Of course, North has experience with what it feels like to add a sibling to the mix, and according to Kardashian, she feels "really excited" about the prospect of becoming a big sister one more time. On the other hand, Kim Kardashian says Saint "doesn't get it yet," which makes sense because he still is a little guy. The reality television personality said she and her husband talk with their children about what is happening and how. But it seems natural for them to have some confusion and questions. Kardashian said it's tough because they don't see her pregnant.
Interestingly, Sarah Jessica Parker, who also had a child via surrogacy several years ago, once expressed that she felt a lot of the emotions Kim Kardashian seems to be going through now. The Sex and the City star said it was hard to remember that it was happening, and it was hard to know exactly how much or how little to interact with the surrogate. Luckily, it sounds like Kardashian and Kanye West are trying hard to keep calm and cool during their surrogacy journey, so hopefully, it will be a smooth and wonderful transition.
Your Daily Blend of Entertainment News
Your Daily Blend of Entertainment News
Thank you for signing up to CinemaBlend. You will receive a verification email shortly.
There was a problem. Please refresh the page and try again.