Russell Simmons Has Been Accused Of Sexual Assault By Multiple Women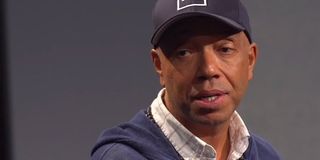 In recent weeks, at least nine women have accused Def Jam and Phat Farm founder Russell Simmons of sexual misconduct. Four accusers claim the music mogul raped them, and the timeline of the allegations spans decades from 1983 to 2016. The accusations are graphic and intense, and Simmons has responded with statements to the press.
The accusations include charges by women who said Russell Simmons sexually assaulted and/or harassed them. These are women like Drew Dixon, who worked as an executive at Def Jam in the 1990s. During that time, Dixon allegedly endured "prolonged and aggressive sexual harassment" by Russell Simmons, whom she said frequently exposed his genitals to her.
Then Sherri Hines of the former hip-hop group Mercedes Ladies said Russell Simmons raped her during at his office in New York. In statements, Hines said she repeatedly asked Simmons to stop. Similarly, Christina Moore, a woman who was 26 when she allegedly met Russell Simmons at the Soho Beach House in 2014, says she went back to Simmons' room. There, Simmons supposedly had his "hands all over" her and left her feeling "assaulted."
The list of accusers kicked off with screenwriter Jenny Lumet, who recently accused Russell Simmons of sexually assaulting her in 1991. In a statement to Us Weekly, Simmons chalked up the matter to a difference in memory but acknowledged Lumet's "feelings of fear and intimidation" were real, and he apologized for being "thoughtless and insensitive" in some relationships.
But as more women have come forward with accusations, Russell Simmons' continued statements have taken a different tone. For example, he told The New York Times that the "horrific accusations" had shocked him. Simmons claimed he always had consensual relations:
The statement corresponds with Russell Simmons commitment to yoga in recent years. Coincidentally, however, at least one accusation against Simmons allegedly happened after a yoga class. The accuser, Natashia Williams-Blach, says Simmons asked her to perform oral sex on him after the class in 1996 when she was 18.
Russell Simmons' statements did not stop. Afterward, Simmons also sent a statement to The LA Times. He first denied the claims:
The LA Times included the statement in an expose of questionable moments from Russell Simmons' past. For example, the article pointed out incidents such as comments Oxygen's camera crews caught during the filming of Running Russell Simmons, when Simmons called women bitches and told a woman to dress provocatively for a date with him. In a second statement in the article, Simmons wrote:
The accusers coming forward with stories about Russell Simmons say they felt inspired to speak out thanks to the trail blazed by women who came forward with accusations about the alleged sexual misconduct of Harvey Weinstein. We'll keep an eye on this story to see how it plays out for all involved.
Your Daily Blend of Entertainment News