Mimi O'Donnell Opens Up About Her Heartbreaking Feelings Surrounding Philip Seymour Hoffman's Death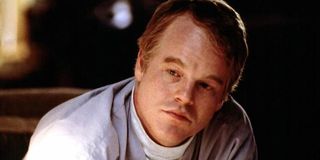 It has been nearly four years since Academy Award-winning actor Philip Seymour Hoffman died at the age of 46. Now Mimi O'Donnell, the woman with whom Hoffman shared the last 14 years of his life and had three children, has opened up in a heartwrenching essay. The piece accounts her relationship with Hoffman and her recollections of his relapse into alcoholism and drug abuse, which directly led to his untimely death. The story is dark in parts, but O'Donnell also covers some of the happy times she and her longtime partner shared. Still, she broaches the topic of Hoffman's passing and writes,
In the Vogue essay, Mimi O'Donnell tells the story of how she first met Philip Seymour Hoffman. She was vying for a job designing costumes for a play Hoffman was directing. O'Donnell describes the instant attraction, and she explains how the relationship blossomed over the following years. O'Donnell reveals how Hoffman was candid about his alcohol abuse and use of hard drugs in his early twenties. She says he was honest about the recovery and rehabilitation programs he went through as well. O'Donnell writes that most of Hoffman's friends were in Alcoholics Anonymous with him, and for years everything went in the right direction.
Mimi O'Donnell indicates the turning point in Philip Seymour Hoffman's life was a challenging time. Evidently, he was experiencing what some people might call a midlife crisis of extreme proportions. O'Donnell writes he was finding himself questioning his "sexual currency" in his 40s. Plus, Hoffman had experienced a falling out with a number of his AA connections. O'Donnell writes about Hoffman one day asking her what she would think if he tried a drink again. Although she vehemently requested he keep alcohol out of his life, he unfortunately relapsed. Soon after alcohol had crept back into his life, O'Donnell uncovered that Hoffman had begun abusing prescription drugs. Not long afterward, she found out he had returned to using hard drugs like heroin.
In the essay, Mimi O'Donnell outlines some but not all of the harrowing moments between when she found out about the heroin and Hoffman's death. At one point, she told him he was going to die if he kept using. In fact, O'Donnell wrote that, in her opinion, Philip Seymour Hoffman seemed to believe he would die young, perhaps as a result of his addictive behaviors. Sadly, this prediction came true.
Philip Seymour Hoffman passed away on February 2, 2014. Hoffman's screenwriter friend, David Bar Katz, found the actor deceased in his Manhattan apartment's bathroom. Hoffman had been using drugs, and heroin and prescription medications turned up around the home when investigators did a sweep of the location. He was wrapping up the final week of filming Mockingjay: Part 2 of the Hunger Games series when he died. Celebrities and movie studios spoke of Hoffman's passing as a real loss for Hollywood. Although alcoholism and drug abuse were critical aspects of Hoffman's life and death, many people remember him not for his addictions but his legacy as a gifted, talented actor and director who blew audiences away in dozens upon dozens of projects like Capote, Doubt, Magnolia, The Talented Mr. Ripley, and so on.
Your Daily Blend of Entertainment News
Your Daily Blend of Entertainment News
Thank you for signing up to CinemaBlend. You will receive a verification email shortly.
There was a problem. Please refresh the page and try again.