Is Katy Perry Appearing In Taylor Swift's New Video?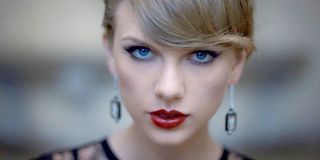 The feud between Katy Perry and Taylor Swift began in 2013. Now there is speculation the musicians are putting the past behind them after years of strife. Apparently, Swift added a special guest to her upcoming music video. Who is the person of interest? If reports are accurate, the VIP is none other than Perry, who allegedly paid a visit to the set of Swift's music video to make a cameo as an olive branch.
Recently, fans got excited when leaked footage of Taylor Swift filming her upcoming music video for "End Game" showed a backup dancer who looked like Katy Perry. Now a source for E! says it indeed was Perry who stopped by the set to film scenes. Perry and Swift evidently were in Miami, Florida, at the same time, so they had the opportunity to make the moment happen. Perry was in town for her duties as an American Idol judge, and Swift was there working on her follow-up to the recent "Look What You Made Me Do" and "...Ready For It?" music videos.
A truce could be great because many fans want the two pop stars to move on. When Katy Perry released Witness, she made headlines for rehashing the feud during Carpool Karaoke with James Corden. From Perry's perspective, the argument boiled down to a misunderstanding. Then Perry released "Swish Swish," an alleged response to Taylor Swift's "Bad Blood," possibly about the falling out. Later, Perry apologized to Swift (after first saying "I forgive her") in an interview. All this happened in a matter of weeks---years after the feud began. By then, the entire storyline was exhausting.
Then it was Taylor Swift's turn to take the feud too far. Promoting Reputation, Swift got people talking about all of her supposed feuds with Perry, Kim Kardashian, Kanye West, past boyfriends, online music streaming services, and so on. (It was a lot.) Swift even included a scene in a music video in which she styled herself like Katy Perry and held Grammy Awards, perhaps a dig at how Perry has never won one. Many critics found the scene resentful and vindictive, and many fans commented on social media with hopes for Perry and Swift to knock it off.
Thus, if Katy Perry and Taylor Swift worked out a way to prove they moved on, it would come at a good time for fans. Besides, Perry and Swift have entered new eras in their personal and professional lives. Perry has been doing much soul-searching, like when she allowed cameras to film her in therapy. Meanwhile, Swift has become an advocate for women after winning a court battle against a man who groped her.
Continuing a senseless feud could contradict both of these positive developments. On the other hand, moving on from the feud could help Katy Perry and Taylor Swift show a united front in the face of negativity in the world and reports that pit strong women against each other. Here's hoping the war is over.
Your Daily Blend of Entertainment News
Thank you for signing up to CinemaBlend. You will receive a verification email shortly.
There was a problem. Please refresh the page and try again.