18 Year Old Aaron Carter Proposes To Playboy Bunny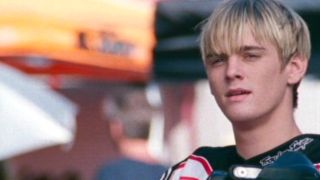 (Image credit: 20th Century Studios)
Aaron Carter probably considers himself one of the luckiest guys on the planet. At age 18 he has a moderately recognizable singing career, is soon to be the star of a reality TV show about his family, and now his girlfriend, an ex-Miss Teen USA turned Playboy Playmate, has agreed to marry him.
Kari Ann Peniche, soon to be Mrs. Aaron Carter, told People Online that he proposed to her on stage in front of an audience of 200 during a Playboy Comedy Tour stop in Las Vegas. OK, so that's not the most romantic thing in the world. Cut him some slack, he's barely old enough to buy a lottery ticket.
Not that it matters much. Peniche hardly remembers the moment. "I don't remember it happening. It was such a blur," she said. "I had no idea he was going to do this, but I'm glad he did." The two plan to get married sometime in the next six months.
This engagement is probably going to rub a little salt in the wounds of older brother and BackStreet Boys member Nick Carter. Nick had dated Kari awhile back before Aaron picked her up on the rebound.
I wish them both the best, despite the tough road they have ahead. Marriage is tough when you're young and in the spotlight, trying to hash out a celebritized career. Just ask the ex Lachey-Simpsons.
Your Daily Blend of Entertainment News