The 22 Best Celebrity Tweets From The 2015 Oscars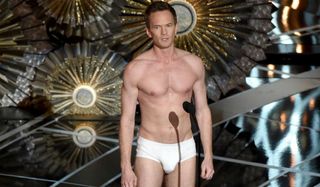 It's an annual event that can define an actor, actress, director, screenwriter, designer, cinematographer, and more. The Academy Awards places their winners in the Hollywood elite, deeming them worthy of the prestigious title. Whether or not you've seen most of the films included in the Oscars (because studies show most people don't) it is an event that everyone can tune in to and enjoy. While the show revolves around the award winners, it also is opportunity to see some of our favorite actors and actresses hit the stage. There are musical numbers, a host trying desperately to outshine the last with witty banter, and plenty of drama just waiting to be exposed. And with all that being said, there's nothing quite like live tweeting the Oscars. We all do it, even the celebrities. So take a look at the 22 best tweets we compiled from last night's 2015 Oscar ceremony.
Steve Martin calls out who deserves the first award of the show.
Kerry Washington was not only deemed hero of the night, but she did so all while hiding some Scandal teasers in her purse.
Kathy Griffin defines the word 'friend'.
Ricky Gervais is starting his campaign to move up from Globes to Oscars host.
Reese Witherspoon shares the excitement of her mama, and our hearts immediately melt.
John Hodgman puts things into perspective.
Anna Faris and Chris Pratt prove once again they are the greatest couple in all of the galaxies.
Gaga really loved those gloves…
Jared Leto can take a goofy Snapchat, just like us!
Alyson Hannigan roots for her How I Met Your Mother co-star from afar.
Because his speech was too long... get it?
Anna Kendrick knows what's up.
Mindy Kaling calls out the Academy for their 'huge mistake'.
Of course we needed some sort of dirty joke from Amy Schumer.
Seth Meyers reminds everyone in Best Original Score category that they are all winners.
Jordan Peele with the astute observation.
Rob Delaney calls out exactly what Octavia Spencer was thinking.
Patton Oswalt's words to live by.
This wild world we live in, according to Professor Snape.
Wil Wheaton calls out Travolta on his touchiness.
A hilarious disaster or too awkward to watch?
This dude may not be a celebrity, but his tweet totally won the night.
Your Daily Blend of Entertainment News