What Fans Should Know About Colin Farrell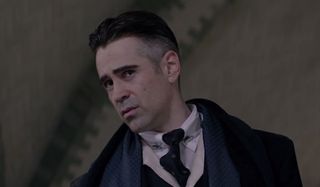 Early in his career, before starring in family flicks like Dumbo and Fantastic Beasts and Where to Find Them, Colin Farrell was as known for being a Hollywood "Bad Boy" as he was for his acting chops. His life and career have been roller coaster rides of incredible highs and insane lows. He has been linked to more women than Mick Jagger, he's dealt with crazy stalkers, blackmailing Playboy Playmates, police accusations, and much more.
His legendary drinking and drugging days are as much a part of his lore as his huge box office successes and they also almost ended his career just as it was taking off. Those bad boy days started long before his career started though, including a time he was detained and questioned by police as a suspect in an attempted murder. We've taken a look at some of the most interesting stories we've heard about the actor in his day, to let you become a mini expert on Mr. Farrell. Take a look.
Colin Farrell Comes From A Family Of Soccer Players
Born on May 31st, 1976 in the Dublin suburb of Castleknock, Colin Farrell is the son of former professional soccer player Eamon Farrell and the nephew of Tommy Farrell, both of whom played for Shamrock Rovers FC in Dublin, the most successful club in the Irish Premier League. His mother Rita has been separated from his father for many years and married Hollywood producer Joel B. Michaels (Stargate, Terminator: Salvation) in 2013.
He Was Educated At A Private Catholic School In Dublin
Colin Farrell was educated at a upscale Catholic school in his hometown called Gormanston College. The school grounds feature a 9-hole golf course, so that's pretty swanky. After high school, he attended the Gaiety School of Acting in Dublin, a school that has also produced stars like Charlie Murphy (Peaky Blinders) and Olivia Wilde (House, Tron: Legacy).
Colin Farrell's First Big Break Came In Television
He was cast in the successful BBC show Ballykissangel in 1998 and just two years later, Farrell landed his fist starring role in a film in Joel Schumaker's Tigerland, where he once said he was so nervous about a sex scene that he "over man-scaped." But just a few years after the nerve-racking moment, he hit his first major stride in film, starring in three huge hits in 2003, Phone Booth, The Recruit and S.W.A.T.
Colin Farrell Once Dated Elizabeth Taylor!
On the heels of those successful movies, Farrell became not only box office gold, but a huge star on the gossip page as well. He might have been scared to film his first sex scene, but he was definitely not nervous about doing it in real life. He seemingly dated every woman in Hollywood --OK not every, but quite a few -- being linked to such stars as Britney Spears, Alicja Bachleda-Curus, Lake Bell, Carmen Electra, Lindsay Lohan, Rosario Dawson, Demi Moore, and Angelina Jolie. Honestly, we could go on and on, the list is long and distinguished.
Perhaps the most surprising though was Elizabeth Taylor! Colin Farrell admitted he never slept with the Hollywood icon, but they did have a romantic relationship. Go Liz! Farrell was later rumored at one point to be considered for the role of Liz's on-again, off-again husband, Richard Burton.
Colin Farrell's Drinking Was The Stuff Of Legends
In the mid-2000s, Colin Farrell was as known for his partying as he was for his acting. He was rarely seen in photos without a drink in one hand and a cigarette in the other. The drinking reached a critical point in 2006 when, after a couple of box office bombs, 2004's Alexander and 2006's Miami Vice, he went off the rails. His career almost fell apart at that point, but he turned it around, checked into rehab, quit drinking, and rebuilt both his career and his reputation.
Colin Farrell Was Once Suspected Of Attempted Murder In Australia
Before his starring role as a detective on HBO's True Detective, he was just another 18-year-old Irishman bumming around Australia on a gap year when he was detained and questioned about an attempted murder. He reportedly spent four hours getting grilled by the cops before he finally fessed up to committing a crime. Not the crime they suspected him of, but he admitted that he and his buddy had taken some MDMA and rolled around Sydney and it was all confirmed by his friend's journal that he'd been keeping during their trip.
While he had alluded to this incident in the past, it wasn't until he appeared on The Tonight Show in 2015 that he told the whole story. Everyone was stunned, to say the least! Who knew that admitting to drug use to the police would be the best idea?
He Once Was Confronted By A Stalker On The Tonight Show
Nine years before his major confession on The Tonight Show, he had another incredible appearance on the show. Back when it was still hosted by Jay Leno, Colin Farrell appeared and was confronted by a woman named Dessarae Bradford who accused him of sexually harassing her. While in the middle of a taping of The Tonight Show, she took to the stage and confronted Farrell with a book she written called "Colin Farrell: A Sick, Twisted Puppy." He eventually defused the situation and led her offstage where she was arrested. Sadly, the incident was cut from the show and was never shown to the public.
This was not the only incident Colin Farrell dealt with her on either. She sued him multiple times, including once after the incident for a cool $10 million! She lost that one and the others. Farrell had to file a restraining order on her as well.
Colin Farrell's Role In Minority Report Almost Went To Javier Bardem
Minority Report was one of the roles that Colin Farrell landed early in his career that really helped launch him to superstardom. And he almost didn't get the role. Javier Bardem (No Country For Old Men, Skyfall) was Steven Spielberg's original choice for the role, but Bardem didn't think he was ready for the role and turned it down. That's the kind of choice that can make or break a career and luckily for both men, things turned out pretty great. Still, it really would have been interesting to see Bardem in that role as it would completely change the movie.
There Is A Colin Farrell Sex Tape Out There
Once again, Farrell might have been nervous for his first on-screen sex scene, but not this one! Back in 2003, in the midst of his bad boy days, Farrell dated a Playboy Playmate named Nicole Narain. Three years later, when Colin Farrell was at his career pinnacle, Narain sold the rights to a sex tape she had recorded while they were together. Farrell sued to stop the release, but you know how these things usually work out. The tape is out there, Farrell couldn't stop it. For some people, this might be the best news they've read all day!
Colin Farrell Initially Turned Down The Role For In Bruges
Farrell was reported was so distraught over his run of box office failures in the mid-00s that he was worried just being cast in In Bruges would ruin its chances to be a hit. It had also followed a ton of bad press about his drinking and partying too, so Colin Farrell figured he was box office poison at that point. Thankfully, Martin McDonagh was persistent and got him to take the role alongside fellow Irishman Brendan Gleeson. The film completely rescued his career and was a hit with critics and audiences alike.
Colin Farrell Once Turned Down A Role In Don Quixote
It took a couple decades for Terry Gilliam to get his Don Quixote movie, The Man Who Killed Don Quixote, made. In one of the iterations of the film, Robert Duvall was supposed to star as the titular character and Farrell was supposed to play his sidekick, but Farrell refused the role and once again, the film was thrown into turmoil (again). The film was eventually made but it is still caught up in lawsuits today. It's truly one one of the craziest stories in Hollywood history, so it's no surprise that Colin Farrell was once a part of it.
Today He's Happily Raising His Two Boys
Colin Farrell is also the father of two boys. His oldest. James Padraig was born in 2003 to actress Kim Bordenave and his second boy, Henry Tadeusz was born to Polish actress Alicja Bachleda-Curus.
Colin Farrell's gossip page days are mostly behind him, just like his drinking days, but his big box office days are certainly not, with a string of hits over the years like Total Recall (2012), Seven Psychopaths (2012). Saving Mr. Banks (2013, and Fantastic Beasts and Where to Find Them (2016). Plus this year's Dumbo and the upcoming Eve. After 20 years, he is still one of the biggest draws in Hollywood, the reformed bad boy with the dashing good looks and the acting ability to play almost any role (except Alexander The Great).
Your Daily Blend of Entertainment News
Hugh Scott doesn't believe aliens are hidden at Area 51 or that Elvis is alive, but he does believe birds are real and Meghan Markle isn't treated fairly by the tabloids. He's been writing about music, movies, and celebrities for most of his adult life after realizing stocking shelves in a paper warehouse in college wasn't all it was cracked up to be.