5 Big Ways Secret Wars Will Completely Change The Marvel Universe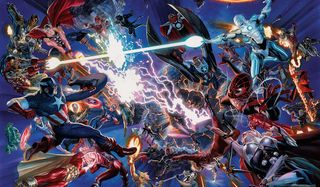 It turns out that 2015 is the year that the Marvel Comics will change forever…no, really! Back in October, Marvel announced the upcoming event Secret Wars (named after the original 1984 series), which has different versions of Marvel characters from parallel universes and timelines fighting on a strange planet called Battleworld. Although it was described as "overwhelmingly huge," not many other details were provided about what we can expect from this happening - until now. It's been revealed that the events of Secret Wars will result in the destruction of the current Marvel universe and combine elements of both the main continuity and the Ultimate continuity (a separate imprint of Marvel that's existed since 2000) into a new Marvel universe.
This status quo change, which is reminiscent of what their competitor DC Comics like to do several times a decade, is Marvel's biggest venture yet at overhauling their universes and creating a new world for its characters. There's still a lot we don't know about what will go down during Secret Wars or what specifically will lead to the creation of this new universe, but going off this game-changing announcement, here are the five biggest ramifications we'll see from the fallout.
5. The Current Universe Will Cease To Exist
Since the first appearance of the Fantastic Four in 1961, Marvel's main universe - nicknamed the "616 universe" - has grown with each character introduced and each adventure written. We've watched superheroes triumph, we've seen bad guys succeed and we've seen a lot of fights with aliens, time travelers, mythical beings and all sorts of weird individuals, with New York City commonly finding itself as the central battleground. However, the consequences of Secret Wars will result in this universe's destruction. Your favorite characters may survive and they may continue to go about their lives as they normally would have, but surely there will be a great deal of drama and tension wringed out of the fact that we have absolutely no idea about anyone's fate. Looking at it from a broader scope, however, the current world they live in has an expiration date. Current Marvel Universe: Soon to be dead at 54.
4. The 616 And Ultimate Universes Will Converge
Although this isn't the first time that characters from the 616 universe and Ultimate universes have met, Secret Wars marks the biggest crossover yet between the two universes. Building off the universal incursions seen in Jonathan Hickman's run of Avengers and New Avengers, Secret Wars will have different pieces of many Marvel universes being used to make Battleworld, where heroes and villains will fight each other. The fallout from the event will result in the best elements from the 616 universe, the Ultimate universe and possibly other worlds from the Marvel multiverse joining together to create an "All-New" Marvel universe. This is remarkably similar to DC Comics'1985 crossover Crisis on Infinite Earths - although while that story resulted in several alternate universe characters being erased in favor of maintaining one version of a hero or villain, the same might not be true for Marvel. For example, don't be surprised if you see the Peter Parker Spider-Man teaming up more often with the Miles Morales Spider-Man, or the Avengers fighting alongside the Ultimates.
3. New Alliances Will Be Formed
Last week, Marvel teased the "All New, All Different" Avengers coming in May 2015. Although Secret Wars will be running at the same time that this new Avengers lineup is revealed, it's likely that eventually we will see 616 and Ultimate characters team up together. Since they will share the same world, their paths will surely cross often (especially if almost everyone is being crammed into New York City), and this will surely lead to fresh new relationships. The new Avengers could include heroes of different universes, the X-Men could take in new mutants, and you can be sure that the villains will definitely try to pull off crimes together if they can work out an arrangement. In the past, the teaming of characters from alternate universes was a rather rare and special thing, but after Secret Wars, it will actually become the new standard.
2. Many Characters Will Be Killed Off/Erased
In war, there is always casualties, and Secret Wars will be no exception. Although the post-Secret Wars Marvel universe will combine the "best of both worlds," that doesn't mean that everyone will be coming along for the ride. Whether they fall on Battleworld, perish during the joining of the universes or are simply erased from existence, you can be sure that lives will be lost. As noted earlier, everyone is a target, although considering that the Ultimate universe is only 15 years old, I theorize that more of those characters will be killed off compared to the main continuity versions. On the other hand, Marvel editor Axel Alonso also teased that old characters like Gwen Stacy could also return during the event, so there may be a chance to see departed friends and enemies resurrected as well. At this point, however, nobody is safe.
1. It Opens The Door For More Soft Reboots
Over the decades, Marvel has made alterations to their continuity, whether it's small retcons of events or rewriting aspects of a character's life – for example, like J. Michael Straczynski and Joe Quesada's 2007 Spider-Man story One More Day. However, this is the first time they've made sweeping changes to multiple universe on this scale. Frankly, it's reminiscent of what DC did in 2011 with their New 52 reboot, although Marvel's Senior Vice President of Publishing and Executive Editor Tom Brevoort has said that he doesn't approve of the term "reboot" being used for their changes. Keep in mind that the history of both universes still remain intact, so this type of "reboot/relaunch/whatever you want to call it" isn't overwriting past continuity. That being said, much like DC's multiverse has changed repeatedly over the years, don't be surprised if eventually Marvel decides to make adjustments to their new universe down the line. The status quo of comic book universes change with every year, so the new Marvel universe we're getting this summer may not be the same one we have in a decade or two.
Your Daily Blend of Entertainment News
Connoisseur of Marvel, DC, Star Wars, John Wick, MonsterVerse and Doctor Who lore. He's aware he looks like Harry Potter and Clark Kent.