Anne Hathaway Cried After Cutting Hair For Les Miserables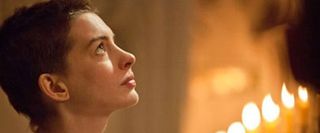 When Anne Hathaway chopped off all of her hair, I initially assumed it was an Emma Watson sort of move, meant to look bold on the fashion runway, or the red carpet, or whatever. Instead Hathaway's new 'do was a forced choice. The actress has opted to play Fantine, the tragic and noble prostitute who cuts off her hair early on in Les Miserables to help save herself and her child. Despite the haircut being an integral part of the character, Hathaway was not prepared for the response losing her hair brought her.
The actress appeared on Live with Kelly! Thursday to discuss how the cut was achieved onscreen, as well as to talk about how she felt after all of her beautiful locks were swept away. When she spoke to director Tom Hooper to volunteer to cut off all of her hair, she felt like it was no big deal. After all, an extreme haircut was something the 29-year-old had wanted to accomplish for a while. It was only when the locks began raining down that an overwhelming sense of panic overtook the star.
People is also reporting the star was forced to sit in a chair for twenty minutes with her half hair cut, giving her ample time to overthink and stress out about her decision. Luckily, partway through the cut, there was a bit of comic relief when her stylist, Paul took over the haircut from the woman in the Les Miserables scene, shooting the rest of the scene with the woman's period piece dress on.
Pop Blend thinks the cut suits Hathaway's facial frame really well, but it is always disarming to chop off something a person knows will take years to grow back. Luckily, if the actress changes her mind, there are always extensions.
Your Daily Blend of Entertainment News
Thank you for signing up to CinemaBlend. You will receive a verification email shortly.
There was a problem. Please refresh the page and try again.