Arrow's Manu Bennett Was Arrested At Comic Con, Get The Details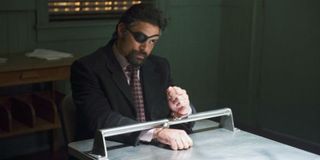 Looks like somebody is getting used to the handcuffs off screen as much as he is on screen. Actor Manu Bennett who portrayed Slade Wilson/ Deathstroke on the hit CW TV series Arrow was just arrested on a misdemeanor assault charge while attending Alamo City Comic Con.
The actor spent the night in a San Antonio jail under the charges of assault causing bodily injury. According to My San Antonio, Benett punched a 29-year-old man in the face while at a party at the Grand Hyatt Hotel. No additional details have been made available on the incident. But the actor who has shown off his fighting skills in a range of shows and films, from Starz's Spartacus series to The Hobbit movies clearly did some damage, as the assault charge kept the New Zealand actor held on a $1,600 bond.
Bennett was in San Antonio to attend the Alamo City Comic Con as one of their named celebrity guests. The 45-year-old actor is most well known for his portrayal as Crixus, a top gladiator in Spartacus. The series which was inspired by the historical figure Spartacus has become recognized as one of the most graphic shows on television. Bennett's role on the series though would open up a new world for the actor. He went on to star as Azog the Defiler, the starring evil Orc in The Hobbit films. And most recently, Bennett has been a recurring villain on Arrow.
Bennett showed up in Season 1 and soon joined the main cast in Season 2 as Slade Wilson/ Deathstroke. He even had a guest role in Season 3 of the series. Slade's character has an important role in the series, he was on the island where Oliver Queen is stranded during flashbacks, and eventually teaches the protagonist how to fight but as their story progresses, and the seasons continue, Slade Wilson's Deathstroke becomes more prominent, an enemy to Oliver Queen/ Arrow.
Arrow fans have deemed Deathstroke as one of the best aspects of Season 2, and he went on to have a sole appearance in Season 3, but Bennett was displeased with the way his iconic character was treated, and may not be returning to the series anytime soon. Slade Wilson was left locked up at the end of his appearance, so he may or may not be returning. We'd rather see the actor kicking ass onscreen though, than in real life. So maybe he should reconsider his return to the show.
Your Daily Blend of Entertainment News