Artie Lange Gets Arrested After Calling His Girlfriend A C Bomb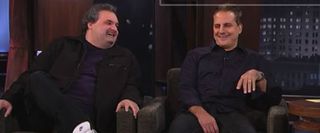 Comedian Artie Lange is about as known for being volatile and dealing with substance abuse as he is for comedy. The 44-year-old recently made a buffoon of himself at a Paris theater that basically ended with an unnecessary C bomb. At least he's honest about it, I guess.
The Nick and Artie Show is a weeknight radio program hosted by Lange and fellow comedian Nick DePaolo. For three hours each day, the two men talk sports and reference entertainment in their chats, sometimes even bringing in personal stories. During Monday's segment, Lange told a tale about getting into a fight with his girlfriend while they were in Paris, France. Apparently, the argument turned into a shitstorm when an enraged Artie followed his gal pal to a theater where he screamed at her, stating, "Get out here, you effing cunt."
The man was clearly in a public space when this went down, and thus the cops were called, leading to Lange's arrest when he tried to throw down with a police officer after being asked to calm down.
According to TMZ the couple broke up after the event, which is fitting, and hopefully an epiphany moment for the comedian and actor, who has been in the public eye for similar reasons in the past. There's a difference between getting pissed and being obscene, and while it may feel good to yell horrific things at your girlfriend when she's angry at you, a lack of self-control is both pathetic in a 44-year-old man and knocks a lot of the laughter out of the comedian's jokes. Peter Pan may never have wanted to grow up, but he could also fly. What's your excuse, Artie?
Your Daily Blend of Entertainment News
Your Daily Blend of Entertainment News
Thank you for signing up to CinemaBlend. You will receive a verification email shortly.
There was a problem. Please refresh the page and try again.