Artist Creates A Barbie Doll With The Proportions Of A Real Woman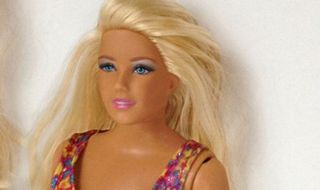 Limited edition Barbies shaped like famous celebrities have popped up every now and again. Over the past couple of years, pop singers Katy Perry and Nicki Minaj have been turned into dolls for charity. Additionally, Khloe, Kim and Kourtney Kardashian put together miniaturized, limited edition versions of themselves, hoping they'd sell like hotcakes. In each of these instances, the Barbies were an idealized version of the women's actual bodies. What would happen if a Barbie doll was actually made in the image of real young woman?
Artist Nickolay Lamm sought to find out, using a 3D printed model to create an image of the average 19-year-old woman. In a blog post, the artist sought to determine what the average 19-year-old girl looks like via measurements taken for the Center for Disease and Control. The result is a Barbie with a thicker waist, shorter legs, a larger bottom, and a much less creepy face.
If you are wondering how a white, 3D printed image began to resemble the real-life Barbie Lamm compared his version to, Photoshop is the culprit. Lamm would like to eventually put together a real-life version of the correctly proportioned doll, but according to the Los Angeles Times, the 24-year-old would have to rebrand the doll and make it look different so that "Mattel doesn't sue (him) for a million dollars." The young man says he would like to go to Kickstarter to get his idea off of the ground.
The news comes just a few weeks after Demi Lovato was all up in arms about how Barbie dolls are unrealistic and would teeter over if they were real-life individuals. The pop singer took to Twitter to state there is nothing more she would like in her life than a Barbie doll based on her own image. Just a few weeks later, Lamm's doll surfaced in her life, and she's been busy tweeting up a storm regarding the newer, realistic version of the doll.
Some people would seemingly welcome the change to Barbie's proportions, while others just see her as a doll, an iconic toy that has changed very little over the years. The real question is whether the average consumer would rather invest in an average looking doll. Let us know which version you think looks more appealing in the comments, below.
If you want to check out Lamm's doll from every angle, head over to the artist's site.
Reality TV fan with a pinch of Disney fairy dust thrown in. Theme park junkie. If you've created a rom-com I've probably watched it.
Your Daily Blend of Entertainment News
Thank you for signing up to CinemaBlend. You will receive a verification email shortly.
There was a problem. Please refresh the page and try again.