Aubrey Plaza Encountered Bed Bugs On Safety Not Guaranteed Shoot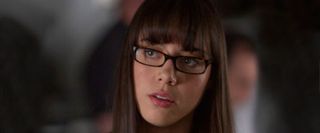 Colin Trevorrow's honest story featuring a time traveling plotline Safety Not Guaranteed, recently hit a SXSW screen. While the flick has earned a bit of buzz over the course of showings at both Sundance and South by Southwest, with critics noting star Aubrey Plaza has done one hell of a job, theParks and Recreation actress may be regretting her choice to join the cast, at least a little bit.
When Plaza showed up to the extremely short 24-day shoot in Seattle, I'm sure a few problems were to be expected. However, I'm fairly certain the 27 year-old actress wasn't expecting what she got: bed bugs. According to E! Online, the end result was a rash her costars could not stop teasing her about. Fellow cast member Mark Duplass seemed to be a heavy hitter with the jokes.
.
To her credit, Plaza seemed ultimately pretty calm about the experience, stating hotels are often the culprit in bed bug situations. Which is damn admirable of her. If those ugly, gross little monsters ever came near most of us, I'm sure we would be flipping our shit. Although, I suppose we don't know how Plaza was feeling during her initial bed bug infestation. At least Safety Not Guaranteed seems to have been worth it.
Your Daily Blend of Entertainment News