Avril Lavigne Had To Meet Chad Kroeger's Parents Over Speaker Phone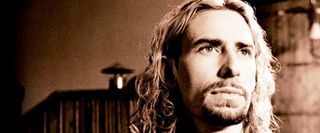 Avril Lavigne and Chad Kroeger had only been dating since February when the Nickelback frontman proposed to his spunky girlfriend last month. Apparently, six months is enough time to get acquainted before marriage, but not enough time to get around to meeting the in-laws. The 37-year-old rock star and his 27-year-old fiancée recently came out to admit Lavigne had never met Kroeger's parents prior to accepting his 14-carat proposal.
Kroeger proposed to Lavigne on August 8, before the two really had the chance to engage with each other's families. Apparently, Kroeger called his family up to let them know he was engaged, and the conversation had to double as a meet-and-greet with his new fiancé. The lines of communication in this family sound like they are really flowing…
Kroeger has also never seen Lavigne's hometown. Though both celebrities are Canadian, Kroeger is from a town in Alberta and Lavigne hails from Napanee, Ontario, so they never crossed paths. According to US Weekly, the "How You Remind Me" singer wants to make it to Ontario, so he can try his beloved's favorite pizza place.
Clearly, the couple has a lot of family-oriented stuff to do before they tie the knot, but they definitely seem enthused about the upcoming activities. We'll keep you posted when the couple sets a date.
Your Daily Blend of Entertainment News
Thank you for signing up to CinemaBlend. You will receive a verification email shortly.
There was a problem. Please refresh the page and try again.