Bad Religion Guitarist: My Wife Used Hockey Equipment To Attack Me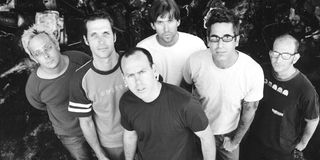 As Greg Hetson and his fellow band members from Bad Religion have aged, they've learned to share concert bills with far younger acts. Unfortunately, Hetson hasn't adapted quite so well to sharing his house with a younger woman. The fifty-two-year-old guitarist and his twenty-eight-year-old wife aired some dirty laundry in court this week, and if even a fraction of the claims are true, their relationship has turned into a mean-spirited and violent mess.
According to TMZ, Greg's wife, Alia, filed paperwork through her attorney claiming the musician violently threw her on the ground during a recent argument. As such, she took out a restraining order against her estranged partner, but he's since fired back with more than a few stories of his own. He claims she's actually the abusive and unstable one and has proven it numerous times. If he's to be believed, she's stolen eighteen thousand dollars from their joint checking out, shoved an apple core into his mouth in the middle of an argument, thrown him out of a moving vehicle and used a clothing hanger and hockey equipment to attack him, the latest of which sounds like it was taken out of Happy Gilmore's playbook.
Clearly, he aired a whole lot more dirty laundry than she did, but since he responded second, it's unclear whether she was just holding back or doesn't have any more crazy ammunition. Either way, there is something clearly broken in this relationship. People should not be shoving apple cores into each other's mouths, tossing women on the floor during arguments and/ or lying about such things. I'm not normally a man who roots for divorce, but both Greg and Alia need to take a long hard look at their lives right now and decide whether they should ever spend time together again. There are some couples that just aren't meant to be together.
Hetson first joined Bad Religion all the way back in 1987. He and the guys made a decent enough living for the first few years, but during the early to mid 1990s, they actually started selling a large number of albums and picking up a large number of supporters. In total, they've moved more than five million albums and remain a group with tremendous credibility and respect within the old school punk rock community.
Given how much animosity is already present and how many negative accusations have already flown, there's a good chance these two will fight over every last penny if they wind up splitting. No doubt that'll make for some good tabloid fodder, but it definitely won't be productive for either of their mental states. As such, I sincerely hope they either work out their problems and start behaving sensibly and lovingly or they split and do so with class and sophistication.
Enthusiastic about Clue, case-of-the-week mysteries, the NBA and cookies at Disney World. Less enthusiastic about the pricing structure of cable, loud noises and Tuesdays.
Your Daily Blend of Entertainment News
Thank you for signing up to CinemaBlend. You will receive a verification email shortly.
There was a problem. Please refresh the page and try again.