'Blurred Lines' Lawsuit: Did Robin Thicke Rip Off Marvin Gaye?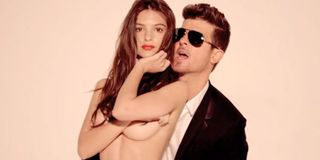 It seems impossible to imagine a time when Robin Thicke's "Blurred Lines" wasn't ever-present, and though it's come by that status honest after weeks on top of the Billboard Top 100, it might have cribbed its popularity from two hits from the past. THR reports that Robin Thicke, Pharrell Williams and Clifford Harris Jr.-- better known as T.I..-- have filed suit against both Marvin Gaye's family and Bridgeport Records, insisting that "Blurred Lines" is an original hit and not a knockoff of either Marvin Gaye's "Got To Give It Up" or Funkadelic's "Sexy Ways."
If you're a bit baffled here, I don't blame you-- usually it's somebody who claims they've been ripped off who files suit, not somebody claiming they're not ripping off someone else. But Thicke, Pharrell and T.I. say that the Gaye family have made "multiple adverse claims" about the similarities between "Blurred Lines" and "Got To Give It Up," and that ""Gaye defendants are claiming ownership of an entire genre, as opposed to a specific work." It's unclear what Bridgeport Records, who owns the rights to some Funkadelic songs, is claiming, but the "Blurred Lines" suit seems to be a pre-emptive move against a future lawsuit. In defense, the "Blurred Lines" trio argues that ""being reminiscent of a 'sound' is not copyright infringement. The intent in producing 'Blurred Lines' was to evoke an era."
What "sound" unites these songs? Judge for yourself:
Before we dig too deep into the ramifications of this lawsuit, remember that the "Blurred Lines" guys have proven masters of self-promotion, debuting that racy video that was immediately replaced with a cleaner version, then suggesting that President Obama should be in the next video, then adding appearances on Jimmy Fallon and Stephen Colbert to build up the hype machine. It's totally unclear how likely a lawsuit from the Gaye family or Bridgeport would have been, and we have to consider the possibility that filing suit is just another way to get "Blurred Lines" in a headline. And it's worked!
Artists get stuck with lawsuits for sampling the work of others all the time, and the legal standing can be incredibly fuzzy-- Jay-Z and Kanye West settled with Syl Johnson after being accused of cribbing from him on Watch the Throne, and the Beastie Boys are stuck asking for a dismissal from a suit by go-go band Trouble Funk claiming damages from the group's first two records, released decades ago. Esquire has an interesting rundown of a suit faced by Rick Ross, and how its specifics could change the way these lawsuits work, but it also points out how much the details make a difference in how these cases are settled. Will this "Blurred Lines" suit go anywhere? Who knows. But with a hit this big, it probably should be no surprise that it somehow wound up in court.
Your Daily Blend of Entertainment News
Staff Writer at CinemaBlend