Deadpool Is Joining The Avengers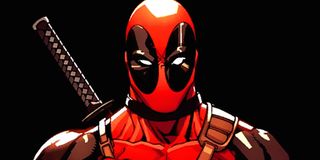 Wade Wilson, a.k.a. Deadpool, is unpredictable. That's stating the obvious, but it's important to keep in mind when he's working alongside other Marvel heroes. Whether it's a fellow wisecracker like Spider-Man or a gruff crimefighter like Wolverine, Deadpool's shenanigans tend to muck everything up during team ups, and what's funny is that the Merc with the Mouth usually doesn't care. So to see that he's now one of the Avengers in the Marvel comics universe…well, it's baffling!
As Polygon spotted in last week's Avengers #0, one of the book's short stories featured Deadpool returning from a mission he was sent on by Steve Rogers. After completing said mission, Rogers gave him an "Avengers Priority Identification Card," officially making him one of Earth's Mightiest Heroes. Deadpool will be featured in the new Uncanny Avengers series, and the opening arc will be written by Gerry Dugan, who has already been working on Wade Wilson's solo series alongside Brian Posehn for years. Avengers #0 is also being used as a launching the other Avengers titles coming out of Marvel's All-New, All-Different rebrand that kicked off last week, like New Avengers and Ultimates, though whether Deadpool will appear in any in those series remains to be seen.
Although the Merc with the Mouth has teamed up with Earth's Mightiest Heroes before, this is his first time being a card-carrying Avenger (although he team up with a group of temporarily reformed super villains that called themselves the Astonishing Avengers during the AXIS storyline). At first I wondered if Rogers had finally gone senile (nowadays he's in his 90s after having the Super Soldier Serum removed from his body) making Deadpool an Avenger, but knowing the former Captain America, he has a good reason for putting him on the team. Besides, just because Deadpool has an Avengers ID doesn't mean it can't be revoked later on. If Wade does something stupid like endanger a mission or spend some the Avengers' budget on a chimichanga truck, they'll toss him out to the curb.
The short story also showed Deadpool visiting Rogue, who, like many mutants across the Marvel universe, is sick after exposure to the Terrigen Mist, the substance that awakens an Inhuman's inner power. That particular storyline is being explored in the Extraordinary X-Men series, but perhaps Deadpool will get briefly involved either in Uncanny Avengers or one of Marvel's other books. This new step for the character comes right as he is set to lead his own movie, which hit theaters on February 12.
You can find Avengers #0 now online or at your local comic book store, and Uncanny Avengers #1 will be available tomorrow.
Connoisseur of Marvel, DC, Star Wars, John Wick, MonsterVerse and Doctor Who lore. He's aware he looks like Harry Potter and Clark Kent.
Your Daily Blend of Entertainment News
Thank you for signing up to CinemaBlend. You will receive a verification email shortly.
There was a problem. Please refresh the page and try again.