Dr. Dre's Net Worth: How Much He's Got And How He Earned It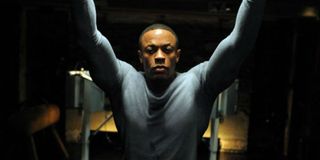 Andre Romelle Young, otherwise known as Dr. Dre name holds in the hip-hop industry as one of the greats. He not only holds six Grammy Awards and was one of the best selling American performing artists of his time, but also Dr. Dre has used his experience in the industry for his own entrepreneurial feats. With the recent biopic Straight Outta Compton exploring Dr. Dre's early days with N.W.A., we are left wondering how he reached his uber success that he has today. Dr. Dre sits pretty with an estimated impressive worth of $700 million dollars this year. He's not the wealthiest hip hop artist, but he sure is close, and his rise from humble beginnings is one worth noting.
After N.W.A.'s breakup, Dr. Dre went on to record "The Chronic" his first solo album, and was recognized as one of hip hop's most iconic artists and producers for the years to follow. The Chronic was seen as something of a cultural phenomenon, introducing a new style of rap to the mainstream. The album was certified triple platinum in 1993, and Dr. Dre was ranked as the eighth best selling musical artist of the year. He continued his solo music career, but his eye for collaboration is what set him apart and led to even bigger commercial success.
When Dr. Dre left Death Row Records in 1996 to establish his own label, Aftermath Entertainment, it was a big step towards the impressive financial success he sees today. With his label, he signed Eminem and 50 Cent, and soon moved towards focusing on production. While he still performed and recorded his own music, the focus was often on his signed artists. He produced music for a range of artists from Mary J Blige to Eminem to Gwen Stefani. And what it came down to was his smart business making skills that rose him to the top. In 2001 he made his first big business move when he sold his Aftermath Entertainment to Interscope for an estimated $52 million.
Then came Beats by Dre, the expensive headphone company that skyrocketed Dr. Dre's worth through the roof. By 2011, Forbes estimated Dr. Dre held a net worth of $250 million, the bulk of it from his involvement in Beats Electronics which he co-founded with Interscope chief Jimmy Iovine. That year HTC had paid $300 million to buy a 51% stake in the company, and Forbes estimated Dre took home about $85 million after taxes. In 2014, Dr. Dre had surpassed Jay-Z to become the second richest hip-hop mogul in the world with an estimated $550 million. Still Sean "Diddy" Combs holds the number one spot, and has for quite some time. But Dr. Dre is sneaking up to it.
This year, 2015, Forbes estimates Dr. Dre's worth at $700 million. In May of 2014 Beats Electronics was sold to Apple for about $3 billion. It seemed that this would set Dr. Dre as the first hip-hop billionaire, but in taking his share of the loot, and additional taxes, it rounded to about a $500 million payout. Along with other earnings, Forbes found his worth to be a total of $700 million, which is almost tripled from 2011.
Forbes tends to look at many different angles, and estimates numbers based on a good amount of research. After the deal was originally announced, Dr. Dre announced on Instagram (later deleted) that he was:
Dr. Dre may not have considered how much in taxes would be taken out of a deal at that size. And though he may not be a billionaire quite yet, with his business savvy, he is well on his way there.
Your Daily Blend of Entertainment News
Thank you for signing up to CinemaBlend. You will receive a verification email shortly.
There was a problem. Please refresh the page and try again.