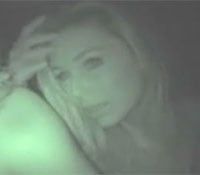 Eva Longoria is giggling about a rumoured sex tape scandal - because she and new husband Tony Parker are too "square" to film their lovemaking. The Desperate Housewives star insists British tabloids, which broke the story overnight, have missed the joke in a spoof sex tape she filmed with comedian Perry Hilton for website FunnyOrDie.com.
The chuckling actress insists she and her husband have never filmed themselves in the bedroom. She says, "Everybody was calling me (when the story broke) going, 'Oh my God...' "We never made a tape... We're very square, boring people."
But Longoria loves the online spoof film, in which she pokes fun at her hit TV show while bouncing around on a bed in her lingerie. She says, "It's like the non-sex video because we don't have sex... It's so funny... Tony thought it was so freakin' hilarious... But it's a skit."
Watch Eva Longoria's sex video via the embed below:
Copyright 2007 WENN
Your Daily Blend of Entertainment News
Thank you for signing up to CinemaBlend. You will receive a verification email shortly.
There was a problem. Please refresh the page and try again.