The Five Best Collaborative Songs From Kanye West And Jay-Z Prior To Watch The Throne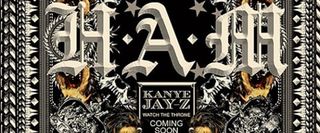 Everyone from Elton John and Eminem to Pink Floyd and Frank Zappa has collaborated in some form or another. Though it's more likely fans will appreciate the partnership between elder musicians like Mick Jagger and David Bowie more than the collaborations between up and coming artists, these recent acts are not foreign to the idea of joining forces. Metallica and Lou Reed have come together for a project while MF Doom and Ghostface Killah are busting rhymes and reinvigorating the golden age of hip-hop. It's evident that endless musicians have come together for appearances, guest spots and full on collaborative efforts, but none of them compare to the highly anticipated pairing of Kanye West and Jay-Z.
Since 2009 the new partners have been working studiously on their debut effort Watch the Throne. It's been a long ride, but critics and fans worldwide are waiting patiently for this record. The wait is almost over though, their new album comes out tomorrow, and the buzz surrounding this effort has been nothing short of colossal. The Thone might be the duo's debut album together, but it's definitely not the first time they've worked together professionally.
In fact, they have been making music collectively for years. Whether that's in front of the mic or behind the mixing board, the New York City and Chicago bred duo have been at it for some time. In 2000, Jay-Z brought Kanye on board as producer for his record The Dynasty: Roc La Familia. This subsequently brought the young producer into the limelight and began his career as the master of hip-hop production. West later worked on both The Blueprint albums, making his name in the music industry. Like Jay-Z did for him, West later helped build the careers of Kid Cudi, Consequence and B.o.B.
After years of joint success, it's finally their time for an album like Watch the Throne to come to fruition. It's been a long wait, but in honor of the past productions, songs and guest appearances that Jay-Z and Kanye West have done, here are my favorite mixes. Whether it was behind the scenes or featured in a track, this list is in memory of the past beats and a celebration of the future songs from Yeezy and Hov.
5) Late Registration "Diamonds From Sierra Leone (Feat. Jay-Z)" by Kanye West
Late Registration might not be Kanye West's most ambitious record, but it was the album that eventually brought him to our radios, homes, and ipods. Jaime Foxx made a guest appearance on "Gold Digger", the most famous track from Registration, but "Diamonds From Sierra Leone" featuring Jay-Z is his finest moment. West wrote lyrics to this song during his first major tour with Jay-Z on the Blueprint Lounge dates. It's a moving track with loads of ideas, plus enough sparkling moments to make this a diamond in the rough. Since Jay-Z hadn't rapped on any of his protege's records yet, this first endeavor helped facilitate fans' desires.
Containing samples from the 1971 James Bond film Diamonds Are Forever, this song perfectly accompanies the spy film influenced beat and provides both Z and Kanye with a multitude of powerful moments to shine. West Riffs off of Shirley Bassey's beautiful lyric, "diamonds are forever," while the "99 Problems" hit-maker chimes in at the perfect moments. In addition to West's sophomore effort Late Registration, it also solidified his presence among the rapping greats. He also proved to the other hip-hop artists that his swagger and game were a force to be reckoned with.
4) The Blueprint 2: The Gift & The Curse Kanye West Produced: "Bonnie & Clyde (Feat. Beyonce)" by Jay-Z
Kanye West produced four songs on Jay-Z's The Blueprint, including "Take Over" and "Never Change." When that album came out, the double LP The Blueprint 2: The Gift & The Curse quickly surpassed it with masterful tracks and an even better production. This was provided by West's talent behind the scenes and his sensibility towards picking out amazing samples. Providing the beats and using samples from "Me and My Girlfriend" by Makaveli and "If I Was Your Girlfriend" by Prince, Kanye West created a unique sound for "Bonnie & Clyde."
You probably know this already, but "Bonnie" was one of the largest selling singles in the past decade. That can be credited to Kanye's professional presence behind the scenes and Beyonce's voice that can set sail a thousand ships. The main point of this song was to tell the listeners a Bonnie & Clyde style caper story, and through Z's east coast rap style and West's blend of eccentric hip-hop production this was possible. West and Hov created a smash hit that rivals "Diamonds From Sierra Leone," and that's no small feat.
3) The Black Album Kanye West Produced: "Encore" by Jay-Z
As you may have noticed, West is a master behind the mixing board and anything he's produced will likely become a smash hit. Kanye hadn't even released his debut album The College Droput and he was already a large presence within the music industry. "I'm, young H.O., rap's Grateful Dead, back to take over the globe," describes the duo's effect on fans perfectly. These rappers are eerily similar to the 1960's obsession The Grateful Dead who also represent how fans show up in droves to see their famous live performances. Because of "Encore," which is a song you've heard even if you think you haven't, Jay-Z was propelled to stardom. Also, it eventually helped West gain the money and popularity he needed for his debut release.
"Can I get an Encore, do you want more?" is sung by both Yeezy and Jay-Z in harmony, showcasing an awesome chorus and proving Kanye is a hell of a singer. Sampling "I Will" by John Holt, the mix features both their talents in an accurate portrayal that will prepare fans for Watch the Throne. One can only hope this album is an encore of the talent featured on this track.
2)The Black Album Kanye West Produced: "Lucifer" by Jay-Z
Even though Kanye has an impressive catalog of albums, just wait until I get to my discussion on "Monster," he's had a more affluent affect behind the scenes than in front. This doesn't say he's not as prolific a rapper as Jay-Z, but the NYC rapper is unlike his Chicago counterpart. It's been endlessly debated what song is the best from his highly influential The Black Album. I can tell you my favorite is "99 Problems," but that doesn't feature Kanye West. "Lucifer" on the other hand does and is a perfect song that also matches the quality of "Problems." West's talent as a producer is showcased through this track's multiple layers of baselines, lyrics, beats, and sounds, all complimented from his intensive production.
It's a perfect example of the work that Kanye has completed over the years. Nothing short of what I would expect on Watch the Throne, "Lucifer" is a bombastic track that compliments every production he's ever done. The artist is known for sampling an eclectic number of different musicians in his tracks, but the last song any fan of his work would expect to hear ended up on this mix was "Chase the Devil" by Max Romeo. That being said, it works wonders as the backing sounds for this hip-hop powerhouse.
1)My Beautiful Dark Twisted Fantasy "Monster" (Feat. Jay-Z, Rick Ross, Bon Iver & Nicki Minaj) by Kanye West
Throughout all of his work with Jay-Z, it seems like Kanye West's My Beautiful Dark Twisted Fantasy is the album he's been working towards. The record encompasses all of West's prior influences and provides fans with exactly what they expect from a guy who has sampled eclectic artists like David Bowie, Bon Iver and Gil Scott-Heron, While also creating tracks like "Encore" and "Bonnie and Clyde." Twisted Fantasy is a bizarre spectacle that can be described more like an experimental record than a "normal" hip-hop album. Because of Jay-Z giving this once unknown rapper from Chicago his initial break, we can all thank him for exposing us to this leading producer in the music industry.
"Monster" is a powerful, in your face, odd, rabid and essential Kanye West song. With its numerous guest appearances, the song become more of a super group effort than a Kanye West solo song. Nicki Minaj comes bubbling up with fiery anxiety, while Jay-Z provides the audience with his most familiar rap style. Rick Ross comes in with distorted vocals while Bon Iver, which can only happen in a Kanye song, is sampled to perfection. All in all, West goes a long way with his eccentric song "Monster." It's a stream of Kanye's consciousness that becomes an entity all its own. It is also the shining moment of his career and will hopefully bleed into his future efforts with Jay-Z and Watch The Throne.
Your Daily Blend of Entertainment News