Gwyneth Paltrow and Chris Martin Are Divorcing Amicably To Avoid Drama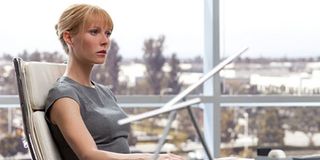 In case you didn't already know, Gwyneth Paltrow and Chris Martin have decided to, "consciously uncouple," or in real people terms, get a divorce. The couple share two children, Apple and Moses, and are ending their relationship of over a decade. The breakup has seemed sudden to many who viewed the couple as having a healthy, loving relationship that would stand the test of time in Hollywood.
What makes this split even more atypical, besides Paltrow's pretentious blog entry on her website announcing the split, is that the couple is amicably separating rather than hitting the courts. Why? Supposedly to keep relationship drama out of the spotlight. It's hard to imagine what exactly the seemingly picture perfect couple Paltrow and Martin are allegedly afraid will leak if courts are involved. Apparently there have been allegations of cheating and other nasty things which could damage their reputations and whomever participated in the rendezvous. The couple do seem genuinely invested in doing what's best for their family, but in Hollywood an amicable split is incredibly rare.
Some celebrity couples have messy ends to their relationships and intense divorces, and have no shame in dragging all of their bad behavior into the spotlight. The Kardashian clan are some of the biggest culprits when it comes to airing their dirty laundry. The divorce proceedings for Kim Kardashian and her ex husband Kris Humphries lasted longer than their strange 72 day marriage. Humphries requested spousal support,bad mouthed Kim and lambasted the Kardashian family as fake, claiming their wedding was a sham for TV. Kim's sister Khloe has an had equally difficult and messy time ending her marriage to basketball star Lamar Odom. Odom's alleged drug use and rehab stints came to light more as Khloe carried on with the divorce proceedings and ultimately ended their relationship on a very sour note.
Despite the couple's best efforts to keep the dirty stuff out of the spotlight, Paltrow is creating quite a stir herself that may do enough damage to her reputation without the marriage drama getting leaked. In an interview with E!, Paltrow discussed her difficulties as a working mother and foolishly claimed that ordinary working mothers have it easier than her. She said the struggles of working on a movie set were so much harder than say, an office job when you have a family. Paltrow is clearly out of touch with the millions of struggling single parents who work hard for low pay to support their children. Her new age take on divorce and her obvious detachment from reality are making it hard to be sympathetic to her cause during this separation.
However during this difficult time for the couple, we wish them and their two children nothing but the best. In the end, the pair has done what is right for them and their particular relationship, even if the rest of us think might they're a little off center.
Your Daily Blend of Entertainment News
Thank you for signing up to CinemaBlend. You will receive a verification email shortly.
There was a problem. Please refresh the page and try again.