How Johnny Depp Feels About His Daughter's Quick Rise To Fame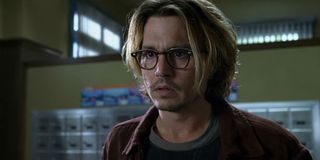 Johnny Depp's 16-year-old daughter Lily-Rose is quickly stealing headlines in both the fashion and film industry. The young teenager only just began modeling when she posed for a photo shoot this past April, and now has become the face of Chanel eyewear. On top of that Depp's eldest child is currently filming alongside Natalie Portman in the film Planetarium as well as being cast in The Dancer. So what does her father, critically-acclaimed actor Johnny Depp have to say about all of this? Well, he's a bit worried about the whole thing.
In a recent interview with German magazine Gala, the 52-year-old actor opened up about his daughter's quick rise to fame (via Telegraph). The Black Mass got candid about his hesitation, but assured he would be there for his daughter no matter what she choses. He said:
While there's hardly any denying Johnny Depp's daughter has proved to be a talented model, and even actress, it's not surprising the father would have some reservations in just how quickly this has all taken off, especially considering Lily-Rose only recently turned 16. Back in march, Lily-Rose attended a Chanel fashion ship in New York with her mother Vanessa Paradis, a French actress and singer, and since then she was pretty much thrown into the world of fasion.
Similarly though, Lily-Rose's mother found fame at the young age of 14 with her hit single "Joe Le Taxi", by 19 the actress/singer starred in a Chanel advert. Lily-Rose has also been given a number of acting opportunities since her debut cameo in Kevin Smith's Tusk. She will be starring alongside Natalie Portman in a film about a set of spiritualist sisters entitled Planetarium. But the rising star's work isn't stopping there either, as she also toplines in Stephanie Di Giusto's directorial debut, The Dancer.
At 16 years old, Lily-Rose has an entire career ahead of her. Let's just hope she doesn't get burnt out, or fall down the path of some of the poor decision-making child stars.
Your Daily Blend of Entertainment News
Thank you for signing up to CinemaBlend. You will receive a verification email shortly.
There was a problem. Please refresh the page and try again.