The Ice Bucket Challenge Is A Huge Success, Stop Complaining About It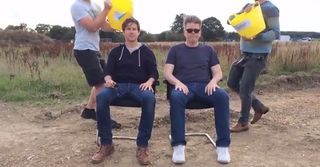 Contrary to what your Debbie Downer friends may have told you, the Ice Bucket Challenge is a success. Period. End of sentence. It doesn't matter whether or not everyone mentioned ALS or Lou Gehrig's Disease in their video. It doesn't matter whether some people enjoyed the brouhaha without donating. It doesn't matter if the concept is now stale. It is, viewed from any angle, one of the biggest viral marketing charity successes in the history of the Internet, and that is worth celebrating, not overanalyzing and bitching about.
Over the last three weeks, the Ice Bucket Challenge has raised more than $30 million, $31.5 million to be exact, as per the ALS Assocation. That's more than 15 times what the organization raised in the same period last year. Perhaps more importantly, more than 600,000 new donors have been added to the official list. That's a win.
Unfortunately, there are a lot of people who are twisting the evidence and obscuring the view to convince people the Ice Bucket Challenge has been somehow ruined by participants who are more interested in being part of the trend. If these people are to be believed, every time someone chooses the Ice Bucket instead of donating, they're taking money out of the pockets of researchers. That's just not true, though. For a viral marketing campaign like this to work, a good percentage of people have to choose the more interesting option. In this case, that's getting freezing water dumped on their head. If 99% of people decided to quietly donate, the conversation wouldn't still be clouding everyone's Facebook walls. And then it would die. It would go away, and the more than $1 million a day would suddenly dry up. ALS needs those videos every bit as much as they need the donors.
In a perfect world, it would be nice if everyone thought about ALS often enough to donate $100 periodically. But they don't. There are too many diseases and too many causes in the world. We can't all think about breast cancer and gay homeless teens and pet population control and leukemia and the 5,000 other worthwhile causes. That's why charities need to find a way to set themselves apart. This October, when I see people wearing pink ribbons, I will donate to breast cancer research, for example. So, whether the fun factor is decreasing or not, I hope the challenge carries over for another few weeks.
Gimmicks like the Ice Bucket Challenge are exactly what charities need. Because it's not about why people donate. It's just that they donate. $100 donated in order to fit in buys just as much research as $100 donated by a family member of someone who died. Raising awareness is the goal because while not everyone will donate, some will. And raising that awareness through something stupid and fun like cold water is way better than the other alternative.
On an otherwise beautiful day in 1939, Lou Gehrig walked to a microphone at Yankee Stadium and gave the still iconic "Luckiest Man On The Face Of The Earth" speech. In doing so, he gave Amyotrophic Lateral Sclerosis a face. When he died two years later, he gave it a body count. Suddenly, people knew about this horrible disease. It took one of the greatest baseball players in history being robbed of his career and later of his life, but they got the message. 75 years later, people have suddenly got the message again, but it hasn't taken a high profile person losing his or her life. It has taken an ice bucket. That's a beautiful thing.
Enthusiastic about Clue, case-of-the-week mysteries, the NBA and cookies at Disney World. Less enthusiastic about the pricing structure of cable, loud noises and Tuesdays.
Your Daily Blend of Entertainment News
Thank you for signing up to CinemaBlend. You will receive a verification email shortly.
There was a problem. Please refresh the page and try again.