Vin Diesel Just Did The Ice Bucket Challenge And You Won't Believe Who He Called Out After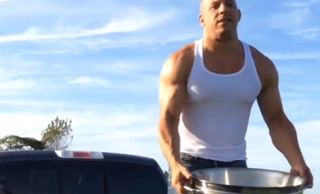 Vin Diesel took on the ice bucket challenge, dumping a steel pot full of ice cubes all over himself before dropping the same challenge on three very familiar names: Michelle Obama, Angelina Jolie and Putin -- presumably Russian Prime Minister Vladimir Putin. Because why not?
Vin Diesel posted the above video on his #Vinstagram page. He's one of numerous A-listers to cover himself in ice in an effort to bring awareness to ALS (Amyotrophic Lateral Sclerosis, aka Lou Gherig's Disease). And anyone with a Facebook account has likely seen the videos popping up as people, famous or not, dump icy cold water on themselves and challenge friends and relatives (and sometimes political leaders, I guess) to do the same or donate money to an ALS charity. The trend has really caught on, people have been having fun with it, and that includes actors like Tom Hiddleston and Chris Pratt, and also athletes (including LeBron James) and pop stars (Taylor Swift).
Vin Diesel, who was last heard in Guardians of the Galaxy (he is Groot), and will next be seen in Fast & Furious 7, took a similar approach to Arrow star Stephen Amell in going full-ice with his bucket... or in Amell's case, garbage can. Check out Amell's video below:
Amell accepted the challenge from his cousin Robbie, and he passed it along to The Flash star Grant Gustin, Arrow's John Barrowman and Supernatural's Jared Padalecki.
Your Daily Blend of Entertainment News
Thank you for signing up to CinemaBlend. You will receive a verification email shortly.
There was a problem. Please refresh the page and try again.