Jennifer Lawrence Posed Naked With A Snake For A Stunning Photo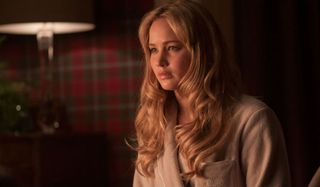 It's Jennifer Lawrence's golden hour, pretty much every hour of the day as of late, and the young and beautiful actress recently decided to strip down and get naked for her latest photo shoot. Of course, since this is J Law we are talking about, it is a tastefully done shot, but damn girl, this photo is about to win over anyone who ever doubted the blond bombshell's stunning beauty. Take a look:
While the photo may look like it was taken in a far off destination, it actually was shot in someone's backyard in the Hollywood Hills. The snake though, that's totally real. Lawrence struck a pose as the Colombian red-tailed boa constrictor was coiled over her body and as comfortable as Lawrence looks apparently the actress naturally did express some discomfort when the snake neared her neck. The photo is a part of Lawrence's newest Vanity Fair cover story which accounts the young actress' unfortunate experience with leaked personal photos.
According to Vanity Fair, the photo shoot, as Lawrence choose to expose her self in one of her most provocative photos yet, was in response to the hacking scandal and wanted to allow the actress to have a "chance to have the last word". Lawrence, who had not opened up previously about the incident told the contributing editor at VF:
So, Lawrence chose to show her body, which she felt had been violated by the nude photo leak, in her own way. The above photo is anything but trashy. It is a gorgeous portrayal of the young actress without any over-sexualization or inappropriate positioning. Yes she's naked, and that's pretty obvious, but personally the first thing I notice in the photo is her smoldering eyes. We all know this girl can act. Starring in uber successful films from her Hunger Games franchise to American Hustle and Silver Linings Playbook, it's no surprise that the Oscar-winner can give us a look that could kill.
But, at the end of the day, we don't need a reminder of how drop-dead gorgeous Jennifer Lawrence is. We are already more than aware. And what we love best about her isn't stunning photos like that, but amazing gifs, like this:
Look for Jennifer Lawrence next in the final chapter of her Hunger Games trilogy when The Hunger Games: Mockingjay - Part II hits theaters November 20th, 2015.
Your Daily Blend of Entertainment News