Joe Jonas Says Taylor Swift's We Are Never Ever Getting Back Together Is Not About Him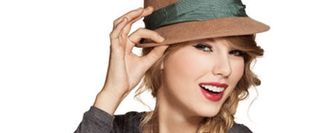 Taylor Swift's newest single, "We Are Never Ever Getting Back Together" broke in a big way on Tuesday. The song explicitly discusses the annoyance factor that sometimes occurs after break-ups, when one member clings to the hope the relationship may start up again. Apparently, Swift has dealt with this sort of situation in the past, but she isn't saying with whom. Regardless, her former flame, Joe Jonas, would like everyone to know the song is not about him.
The middle Jonas Brother dated Swift for a brief period from July 2008 to October of that year. Though the relationship did not last overly long, some songs that came after, including "Last Kiss," have been rumored to be about their time dating. This is why it is not totally ridiculous to think Swift might be talking about her former beau, once more. Swift may want to keep us guessing about the song, but her ex absolutely doesn't want to keep talking about it. In an interview Jonas gave with The Tommy Show on 94.7 Fresh FM he decided to flat out debunk the rumor.
The song release almost seems a little ill-timed, as Swift has been in the middle of one of the happiest periods in her life, taking new beau Conor Kennedy to meet her parents and even shopping for a new house to be nearer the young man. Still, it's always good to add a little heartbreak to spice up an album, and the guessing game surrounding the song is proving to be pretty fun. Next on the to-do list: questioning Swift's other celebrity exs, Jake Gyllenhaal and Taylor Lautner, to see if "We Are Never Ever Getting Back Together" stems back to him.
Your Daily Blend of Entertainment News
Thank you for signing up to CinemaBlend. You will receive a verification email shortly.
There was a problem. Please refresh the page and try again.