Jon Hamm Is Sick Of You Talking About His Penis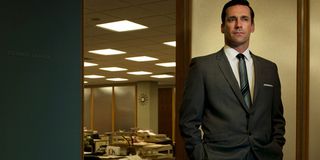 It's the rumor that's had the entire Internet tittering, and the kind of thing you can imagine the secretaries at Sterling Cooper Draper Pryce giggling about just before the boss men walk into the office. With Mad Men shooting its sixth season and men's fashion moving into the unforgivably-tight pants era of the mid-60s, star Jon Hamm was reportedly distracting the cast and crew with his… well, his penis. Which was so big it was taking the attention away from everything else.
We have no way of verifying the rumor, though if you do some Google image searching you can find reasonable evidence that he's got plenty to brag about. But now talking to Rolling Stone, Hamm says he's over it. "They're called privates for a reason. I'm wearing pants, for fuck's sake." Possibly referencing the aptly named Tumblr Jon Hamm's Wang (it's exactly what it promises to be), Hamm worked up a mini-rant about the basic things you expect when you sign up for celebrity:
Very true, Mr. Hamm! There's never a lack of rumors to go around about the private anatomy of various stars, whether it's about penis size or boob jobs or way more private stuff. Hamm, who's been in a relationship with actress and director Jennifer Westfeldt for 16 years, has managed to avoid a lot of that gossipy nonsense, which is probably why he seems extra-annoyed by the latest round of rumors. But isn't the true mark of fame when people start being very, very interested in parts of your body you're trying to keep to yourself?
If you want to see Hamm and those 60s pants in action, Mad Men is finally returning on Sunday, April 7. Check out the latest promo for the new season below:
Staff Writer at CinemaBlend
Your Daily Blend of Entertainment News
Thank you for signing up to CinemaBlend. You will receive a verification email shortly.
There was a problem. Please refresh the page and try again.