Justin Bieber Says Prince William Needs Propecia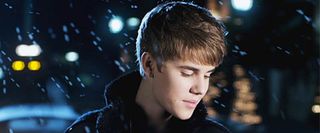 If there's any teen boy with the fashion sense to back up a criticism of a monarch's looks, it is Justin Bieber. The 18-year-old only recently went on the record to criticize England's Prince William over the fact he has been balding. While I personally believe a shot at the Prince's sweater sets may have been a bit more understandable, the Biebs just cannot seem to understand why anyone would let their hair go when there are products on the market for adult males to keep their fashionable locks.
The "Boyfriend" singer recently did an interview with the U.K.'s Rollercoaster where the topic of Prince William's hair came up. The young phenom seemed bewildered when considering why the Prince does nothing for his hair.
Coming from a kid who regularly favors camouflage and gold chains, I doubt Prince William will find it in him to be offended, especially since he seems perfectly content with his signature hair. According to Gawker, Prince William and his heavily-locked brother even joke around about the male balding patterns on the elder's head, which would suggest Propecia will not be in the picture any time soon. If you are still curious to see what the British figurehead would look like with a different hairdo, The Dailymail has obliged, and quite frankly, Prince William looks handsomer as is.
Your Daily Blend of Entertainment News