Kate Gosselin Admits She Made Mistakes During Reality TV Days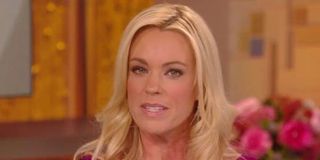 For a while on her TLC reality program, Kate Gosselin kind of turned herself into a little bit of a villain. She was frequently more into her looks than her children. Additionally, random outbursts and emotional moments kept her from really being the beloved half of the Gosselin couple. A few years after the show that made her famous finally got cancelled, Gosselin says she's changed a lot since her reality days and sometimes doesn't even recognize the woman she comes off as on TV.
Gosselin has had a rough few years. First, the reality diva divorced her husband, Jon Gosselin, amidst allegations he had cheated on her. Due to this, Jon and Kate Plus Eight nabbed a title that was a little less of a mouthful, Kate Plus Eight, although the shorter handle didn't help the ratings. Without Jon's wit and good-natured humor, audiences were less enamored with the family life of Gosselin and her brood of eight children. In 2011, the show was promptly cancelled, with TLC noting the network might do some specials in the future. One coupon blogging gig later, Gosselin is still unemployed.
The reality TV personality recently told People that lacking an income can be quite frightening. However, she's also willing to admit that she might be at fault for her current unemployed status, which is a step in the right direction.
Gosselin's wholesome (if not a little selfish) image was especially rocked by the scandal related to her divorce that happened right around the time Plus Eight was proving to be a goldmine for the reality TV stars, as well as TLC. At the time, Gosselin says she was in "survival mode" and has had plenty of time since to reflect on her attitude when she was at the top of her TV game and move forward as a different sort of human being.
Of course, Gosselin's situation is a whole lot different than it used to be. She no longer has a husband to help her care for her eight children from day-to-day, although Jon has admitted that the former couple are getting along better. Additionally, she no longer can live the lifestyle that a reality TV budget used to afford her. With her days on TV mostly behind her, Gosselin's life seems to be a whole lot quieter than it used to be. Hopefully, since there is less commotion in her life, she can now spend more time devoting herself to her family…and magazine covers, of course.
Amazing Race & Top Chef superfan with a pinch of Disney fairy dust thrown in. If you've created a rom-com I've probably watched it.
Your Daily Blend of Entertainment News
Thank you for signing up to CinemaBlend. You will receive a verification email shortly.
There was a problem. Please refresh the page and try again.