Miley Cyrus Admits To Singing About Ecstasy In We Can't Stop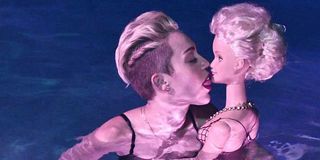 It seems that Miley Cyrus is finally ready to come out and proclaim she's no longer the angel she used to be. From the aggressive haircut to the suggestions that the singer has become on avid pot smoker, fans have known the 20-year-old star is not the same girl who appeared on the Disney Channel just a few short years ago. Smoking pot on her own time is one thing, but on Monday, she finally admitted her new single "We Can't Stop" includes a reference to ecstasy. May the radio edits abound.
In we can't stop, Cyrus sings about "dancing with molly." The singer and her manager later stated this is just Miley stating her name rather than referencing ecstasy, with Cyrus even telling MTV "you can't say 'molly' on the radio, so I'm obviously saying 'Miley.'" However, she recently reneged on this comment, telling the Daily Mail that the lyric is, in fact, about ecstasy (MDMA).
The singer hasn't been shy concerning her personal approval of the "We Can't Stop" video, which features Cyrus gyrating in too-tight clothing and, in one of its creepiest moments, follows the singer making out with a doll in a swimming pool. The video is coarse and raunchy and while it shows the 20-year-old exploring her newfound freedom as an adult, it's not particularly eye-opening or amusing. Still, don't take my word for, catch Cyrus dancing and singing about her ecstasy experiences for yourself.
Cyrus is no longer being particularly secretive about her intentions on the track, also telling the news outlet that people should be able to figure out exactly who she is and what she's up to.
Cyrus is at an age where exploration is encouraged and she has a lot of opportunity to test boundaries and figure out who she wants to be over the long haul. In many ways this is a good thing, but Cyrus has the added burden of going through her formative years in the public eye. Only Miley can decide who Miley wants to be, but that doesn't mean she'll be able to avoid radio edits and a lot of criticism along the way.
Reality TV fan with a pinch of Disney fairy dust thrown in. Theme park junkie. If you've created a rom-com I've probably watched it.
Your Daily Blend of Entertainment News
Thank you for signing up to CinemaBlend. You will receive a verification email shortly.
There was a problem. Please refresh the page and try again.