Neville Longbottom Just Broke The Internet With His Sexy, Half-Naked Magazine Cover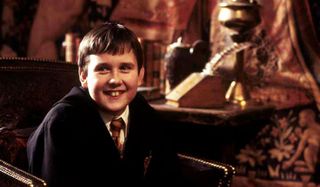 Matthew Lewis' transformation is one for the history books. It proves that puberty can be one of the muggle world's most fantastic forms of magic. Ok that may be crossing a line, but when you think of the chubby, buck-toothed Neville Longbottom we were introduced to in 2001's Harry Potter and the Sorcerer's Stone and then you get a glimpse of this. Well, let's just say, magic exists.
Neville, now going by the name of the actor who portrayed him, Matthew Lewis, has transformed into a sexy, fantastic beast, proving the clumsy Gryffindor with a heart of gold is becoming a man. The 25-year-old actor show's off his chiseled chest among other aspects in a cover photo series for Attitude magazine's swim and underwear special. In the gay lifestyle magazine, Lewis revealed that his new physique did not come easy. The young actor gave up both alcohol and carbs, as well as quite the training regime to achieve his rock hard abs all for his latest film. But really, we just want to see Neville back to wizarding and saving the world. And if his shirt is somehow lost in the fight...so be it.
Not everyone was entirely supportive of Lewis's tighty-whitie not-so-long-bottoms. And a certain creator of the entire world of Harry Potter put her own two cents in about the big reveal.
Though it may sound a bit harsh, J.K. Rowling's reaction does make sense. She's most likely been some what of a mother figure to many of these child actors, not just because of the age difference, but also because, she saw them back when they were this…
And then to go to this...
Don't worry Neville, we still support you. And no need to "go put some clothes on".
As for Matthew Lewis, the man who exists beyond the walls of Hogwarts, be sure to catch him and his smokin' new bod alongside Emilia Clarke, Sam Claflin and Charles Dance in Me Before You hitting theaters June 3, 2016.
Your Daily Blend of Entertainment News