Oops! Watch An Unfazed Raven-Symoné Mistake Continents For Countries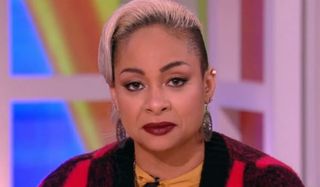 Oh Raven-Symoné. I'd like to say that this isn't a "That's so Raven" moment, but in lieu of the actress's recent media mishaps, the phrase "That's so Raven" has taken a whole new meaning. If I could describe it in one word—facepalm. And now, in the ultimate facepalm moment, Raven-Symoné while discussing her own ancestry, seems to have forgotten the difference between a country and a continent. Don't we learn that in Kindergarten? Take a look for yourself:
Symoné sat down with E! News to chat about her new roles in Black-ish and Empire and of course the conversation also turned towards the stars recent headlines including a comment she made to Oprah stating she was not African-American, but American. This sent social media into an uproar who were overall not big fans of this comment. So, while chatting with E! News, Symoné started to discuss her own ancestry and what happened when she got her DNA results back. Her answer, in case you missed in the video, is total cringe moment:
It would've been one thing had the actress/singer only mentioned continent once, but two times? At that point it's not just a slip-up, it's a serious 'yikes'. Raven has yet to make any comments on this geography mistake, but we can't wait to see if she takes to Twitter to make another ridiculous comment. Not really sure how you can come back from that one though? Poor Raven.
Maybe she was confused, maybe she needs to brush up on her geography, or maybe Symoné just has too much on her plate right now to be worrying about silly little things like the difference between a country and a continent. All we know is that she probably could've used some of those Raven Baxter premonitions to avoid this mess. Raven Symoné will be starring in upcoming drama A Girl Like Grace as well as a voicing a character in the animated adventure Animal Crackers.
Your Daily Blend of Entertainment News