Pope Francis Makes the Cover of Rolling Stone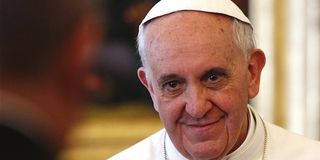 When 1970s rock group Dr. Hook and the Medicine Show sang about seeing their faces on the cover of the Rolling Stone, they likely did not have a Pope in mind. Nevertheless, Pope Francis has become the first Pope in the magazine's history to grace its cover (he apparently decided against a Miley Cyrus-inspired pose)
The 7,700-word cover story written by Mark Binelli delves into the life of Pope Francis and his ability to separate himself from the usual rigidity of the Papacy and former pontiffs––a fact that's referenced in the magazine's headline, "Pope Francis: The Times They Are-a-Changin,'" a nod to Bob Dylan's legendary 1960s folk anthem.
Since assuming the office in March 2013, Pope Francis has made headlines with progressive views regarding the Catholic Church's stance on gay marriage and abortion (not that he's necessarily for those things, only that church leaders should perhaps be focused on other issues). He even recently gave the Internet his blessing, calling it a "gift from God" allowing us to interact with people of other faiths.
"To (have a) dialogue means to believe that the 'other' has something worthwhile to say, and to entertain his or her point of view and perspective," he wrote in a statement. "Engaging in dialogue does not mean renouncing our own ideas and traditions, but the pretense that they alone are valid and absolute."
Pope Francis was also recently named Person of the Year by TIME Magazine. Needless to say, he's racking up the magazine covers. You can check out the Rolling Stone one below. To read Binelli's profile, head here.
Your Daily Blend of Entertainment News