Subway Cuts All Ties With Jared Fogle, Removes Him From Website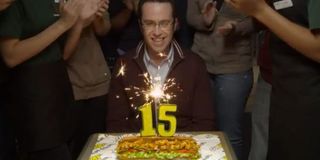 We all remember Jared. He was the guy that made Subway, well Subway. He promoted the happy healthy sandwich retailer in all its "Eat Fresh" glory, but as quick as you can say "child pornography" the sandwich makers removed all promotional material with Jared from their website.
Apparently both Subway and Jared Fogle came to a mutual agreement to suspend their relationship while he is under investigation. Earlier this year, former director of Fogle's charity, Russell Taylor was arrested on charges related to child pornography and a couple months ago was charged with seven counts of production and one count of possession of child pornography. Though Fogle's attorney has stated that Fogle has not been arrested or charged with any crime, according to The Washington Post earlier today the FBI was seen interviewing the former Subway spokesperson and removing computers and electronic equipment from his home.
The suspended relationship between Subway and Jared followed with the company removing all signs of him from their website. The site completely removed the section entitled "Jared's Journey" which was devoted entirely to Fogle's weight loss experience. Jared Fogle had first appeared in ads for Subway back in 2000. They're hard to forget, he often held up a pair of big blue jeans and a heartfelt story of extreme weight loss, all while munching on a good looking sandwich. It set Subway apart from its fast-food competitors, deeming it a healthy alternative to the grease-drenched animal meats and fried sides. It also made Fogle's local subway the world's biggest restaurant chain among more than 44,000 franchises across 110 countries.
It is still unclear whether the investigation into Fogle holds him accountable for child pornography, or whether it is just a follow-up considering his close relations in working with Russell Taylor for their combat against childhood obesity. It'd be incredibly messed up if that the charity held some sort of front to this disgusting pedophilia.
Your Daily Blend of Entertainment News
Your Daily Blend of Entertainment News
Thank you for signing up to CinemaBlend. You will receive a verification email shortly.
There was a problem. Please refresh the page and try again.