Tom Brady Takes Full Credit For Ridiculous Haircuts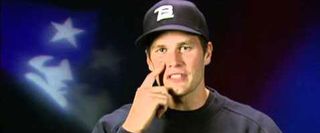 Tom Brady may be a famous football player who works through dirty, grueling practices and games that take a toll on his body, but he's also pretty finicky when it comes to his appearance. We've seen him with long hair and short, slicked back hair and soft hair and even recently with a faux hawk. With a supermodel for a wife, the change-up in appearances could potentially have to do with her taste. However, Brady would like to clear the record: When it comes to hair, the quarterback may like to switch things up, but those decisions are his and his alone.
The Patriots player recently spoke with Sports Illustrated to talk sports, marriage, Funny or Die videos, and seeing Rob Gronkowski without a shirt on. The latter may be unfortunate, but perhaps not as unfortunate as a few of the 'dos Brady has rocked with over the years.
Despite the possibility Brady has gotten ideas like wearing Uggs around town and working the faux hawk from fashionista wife Gisele Bundchen, the star says he has owned each and every one of those over-the-top looks.
There may be a little hatorade left among fans after Bundchen made some mistimed comments post the Patriots Super Bowl loss, but at least one thing is for certain: Brady's fashion faults are all his own, for better or for worse.
Your Daily Blend of Entertainment News
Thank you for signing up to CinemaBlend. You will receive a verification email shortly.
There was a problem. Please refresh the page and try again.