Top 5: Jennifer Aniston Failed Relationships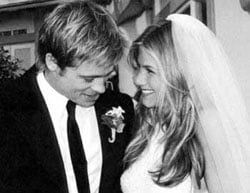 Another day, another Jennifer Aniston break-up. The poor girl seems to be unlucky in love or possibly cursed, maybe by a gypsy or Billy Sianis' damn goat. I just can't be sure. Anyway, this got me thinking. Over the last decade and a half, Jennifer Aniston has dated some of the most beautiful and talented people in both music and film. Which ones were just passing flings and which ones were truly traumatizing? Only she could tell us for sure, but since she's been unavailable for comment, here's our list of the five most painful Jennifer Aniston failed relationships…
Cinema Blend Top 5: Jennifer Aniston Relationships
5. Adam Duritz
Drama. Drama. Drama. Even though Aniston and Duritz didn't date for very long (most of 1995), this heated romance is probably most painful due to the Counting Crows' lead singer immediately hooking up with Jennifer's real life B.F.F. and Friends co-star Courtney Cox. The two ended up dating for several years, pre-David Arquette, and Courtney even appeared in Duritz's music video for "A Long December." Aniston and Cox seem to have patched things up, though, as they vacation together often and the former even guested on the later's show Dirt.
4. Tate Donovan
Aniston's first engagement, the pair dated for almost four years before throwing in the towel in 1998. While not exactly a household name, Donovan is probably best known for either voicing the title role in Disney's Hercules or playing Nancy Drew's hotshot father Carson. He's also dated Sandra Bullock, who dated Matthew McConaughey, who hooked up with Ashley Judd, who was involved with Michael Bolton, who married Nicolette Sheridan, who fucked Leif Garrett, who has absolutely no connection to Kevin Bacon. Booya!
3. John Mayer
Her body may have been a wonderland, but that didn't stop John Mayer from frolicking in Neverland--on at least three occasions. With a groupie, a personal assistant, and a cocktail waitress. Talk about bottom of the barrel affairs. I have no way of proving this, but Mayer's excessive man love for Fallout Boy bassist Pete Wentz may have also played a role in the split. It's just unhealthy to bond with another dude that much.
2. Vince Vaughn
It's never a good sign when half your relationship is spent denying the romance is even happening or deflecting engagement rumors. The couple dated for about a year immediately after The Break-Up finished shooting before, well, breaking-up. I actually thought these two were perfect for each other, but like Vince Vaughn's quarterback career in Rudy, it stumbled along before going out in a blaze of glory.
1. Brad Pitt
Brad Pitt makes every other man in the world look like Brad Garrett, a loveable but bumbling schmuck. He's a nice person, has a body like Adonis, and unlike Don Johnson in Tin Cup likes women, children, and dogs. So, it must have been a terrible blow when, after five years of marriage, Pitt left for possibly the only woman in the world more attractive than Aniston, Angelina Jolie.
This poll is no longer available.
Enthusiastic about Clue, case-of-the-week mysteries, the NBA and cookies at Disney World. Less enthusiastic about the pricing structure of cable, loud noises and Tuesdays.
Your Daily Blend of Entertainment News
Thank you for signing up to CinemaBlend. You will receive a verification email shortly.
There was a problem. Please refresh the page and try again.