The Walking Dead Couple We Wanted May Be Happening In Real Life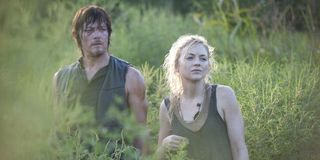 We may have lost all hope for a Beth and Daryl pairing in AMC's The Walking Dead, but it turns out, fans of the zombie-fighting duo may be able to cheer for the pair in real life. The two actors who portrayed Beth and Daryl are apparently taking that on screen chemistry off screen, as reports flood in Norman Reedus and Emily Kinney are currently in a relationship.
When it comes to Daryl Dixon, most fans usually fell on one of two sides. Either you want to see him with Carol, or you wanted to see him with Beth. Daryl has never exactly been concerned with romance, and though Robert Kirkman has cleared the rumors that indeed Daryl is straight, nothing romantic has ever materialized on the series. But, his sweet and when it comes down to it, sensitive nature are qualities that any one can appreciate. There was certainly a strong connection between Norman Reedus and Emily Kinney as they portrayed their respective characters on the show, and now, US Weekly reports a source claiming that the two are taking that connection off screen:
The two have been seen out and about, and have chalked it up to being great friends—friendship that bloomed on set of The Walking Dead. But, now that Emily Kinney won't be spending time on set with her former co-star, the two have been keeping in touch and hanging out in other environments. Most recently, Reedus was seen attending one of Kinney's music gigs (she is also a musician). Apparently, Reedus was attending the concert when a few die-hard Walking Dead fans noticed the two and got awfully excited. And the two apparently were seen canoodling after Kinney's set as well.
While the pair has not officially confirmed the state of their relationship, it's not news that they are pretty close friends. When Kinney was written off the show, Reedus was the first to reach out to the actress, and Kinney told US Weekly:
While we are currently still sitting in rumorville, you have to admit the two do make quite the cute couple. Norman Reedus had his own hilarious response to the gossip though.
Maybe Reedus is trying to divert attention, maybe the two really are just friends. But if we can't see Daryl and Beth finally make it together on screen, at least we can rest easy knowing there is some sort of relationship blossoming off.
Your Daily Blend of Entertainment News
Your Daily Blend of Entertainment News
Thank you for signing up to CinemaBlend. You will receive a verification email shortly.
There was a problem. Please refresh the page and try again.