John Boyega Picks His Favorite Star Wars Movie, And The Answer Might Surprise You
John Boyega's favorite Star Wars movie isn't what you'd expect.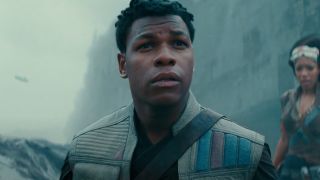 (Image credit: Lucasfilm)
John Boyega is a verifiable Star Wars expert. The London native starred as Finn in the third Star Wars trilogy, so it's safe to assume he knows a thing or two about the galaxy far, far away. With such an impressive background, it's only natural that Boyega would have a favorite installment in the Star Wars series - but the answer might surprise his fans.
In a recent interview with Comic Book Resources, John Boyega looked back at his experience starring in the latest Star Wars trilogy. The former Stormtrooper even revealed his favorite Star Wars film, although the answer may not be what fans would expect. He said:
Some may assume that John Boyega's favorite Star Wars movie would be a film that he appeared in, such as The Force Awakens or The Rise of Skywalker. Return of the Jedi, however, has a unique viewpoint that seems to resonate with John Boyega. The film is the culmination of the epic saga that began with A New Hope and delves deeper into the characters' motivations. Main hero Luke Skywalker is elevated from an orphaned farmboy to the inheritor of the Jedi legacy.
Maybe it's not so surprising that John Boyega loves Return of the Jedi. Finn's journey in The Force Awakens is actually quite reminiscent of Luke's transformation. After all, they were both young men that discovered a powerful Force sensitivity and a destiny that led to the destruction of the Empire.
Relive the excitement and funky sci-fi sound effects of Star Wars by streaming all three movies in the original trilogy on Disney+. The streaming service also hosts John Boyega's performance as Finn in The Force Awakens and the hit series The Mandalorian.
Actor, singer, and occasional dancer. Likes: fashion, books, old buildings. Dislikes: cilantro, the NJ Turnpike, sneaker wedges.
Your Daily Blend of Entertainment News
Thank you for signing up to CinemaBlend. You will receive a verification email shortly.
There was a problem. Please refresh the page and try again.