Daisy Jones And The Six: I Watched The First 3 Episodes And I'm Surprised By How Much I Enjoyed Them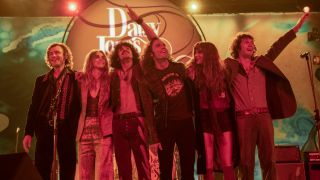 (Image credit: Prime Video)
Of all the book-to-screen adaptations coming to the 2023 TV schedule (not to mention the ones among the 2023 new movie releases), it might be that none was more anticipated than the Amazon Prime Video original show, Daisy Jones & the Six. Based on the 2019 novel of the same name by Taylor Jenkins Reid, the oral history-style story of the (fake) titular band has been a big hit with readers, and I was one of the many people who was eager to see the story on the small screen, but it also made me incredibly nervous.
I loved the book, and wanted more than anything for the limited series (which was in the works even before the novel was published) to fulfill all of my hopes and dreams of the story, after I absorbed the audiobook in a few short days. We've all seen adaptations of things we love go horribly wrong, but I'm pleased to say now that I was surprised by how much I enjoyed the first three episodes (though it's not a perfect show), which were released on March 3. So, let's take a look at exactly why I liked the start of this show so much!
Adaptations Are Hard, But They Seemed To Have Basically Nailed This
As mentioned, anyone who loves watching movies and TV shows has likely seen dozens of screen adaptations for books, graphic novels, comics, video games, board games, and other things that they've loved. While shows like Virgin River or the incredibly popular The Last of Us manage to hit a sweet spot that gives viewers what they want (whether they've enjoyed those properties as the book/video game that came before the series or not), there are many, many adaptations that don't make the cut for a number of reasons.
Truthfully, there are so many ways that this series could have gone really wrong, but after watching the first episodes, it seems like they've basically nailed everything from the Daisy Jones & the Six cast, to the '70s look and the overall adherence to the big beats of the plot. Even better, none of that attention to detail meant that watchability was sacrificed, as it was quite easy to keep playing through to the next available episode.
The Cast Has Made Me Stop Longing To See The Actors Who Voiced Everyone In The Audiobook On Screen
I listened to the audiobook for this novel and adored it. A lot of that was because it was a full cast recording (starring folks like Benjamin Bratt, Jennifer Beals, Judy Greer, and Pablo Schreiber) that made it very easy for me to become fully captivated by the story, and feel like I was really listening in on a documentary crew as they interviewed the band members and those who'd been important to their rise to fame.
One of the things I was worried about when I heard that there would be a limited series, was that the new cast wouldn't be strong enough to make me stop thinking of the voice actors in the roles. In fact, as the header for this section indicates, I really wished they could have just put all the voice actors on screen. You can probably imagine my surprise when, only about 40 minutes into the first episode, I realized that Riley Keough, Sam Claflin, Josh Whitehouse, et al., were now my new Daisy Jones & the Six. I'll always adore the way the voice cast brought the story to life, but now there's a new way to be engaged in the tale, and I love that!
However, These Folks Don't Look Old Enough In The "Modern" Day Scenes
Alright, I think the basics of the series are very strong, but most of those, admittedly, are because they started with a great story. When it comes to something the production had to do all on its own, like taking the band members from their 20s into their 40s for the "modern day" scenes, though… well, they didn't do so great.
The actors playing the band are all in their late twenties to their mid-thirties, while Camila Morrone (who portrays Camila Dunne, as seen above) is currently 25. I don't know what I was expecting from the older versions of them, but they all look the same age as they do in the '70s, with the exception of Will Harrison, who plays Graham and was given a short, scruffy looking, graying wig for his older on-screen self. I mean, it's comical how young they mostly still look.
Timothy Olyphant Is Doing The Lord's Work By Acting In That Wig
Speaking of wigs, the lovely Timothy Olyphant (who will also be seen this year in the series, Justified: City Primeval) got a doozy to play the tour manager, Rod. Though the style is believably '70s, it also looks heavy and like it's sitting about a good six inches off of his head. But, you know what? Tim is making it work. Like he always does. Thank you, sir. May the Lord bless you and keep you.
And Sam Claflin Is Really Working His '70s And '90s Rocker Hair
Yes, I'm still talking about the hair! It's important, OK?! Overall, everyone's hair feels right for their character/the time period, and that includes the 'do lead singer Billy Dunne sports throughout. From a long, naturally wavy look in the late '60s through the 1970s, to the straightened, long-ish, prim-white-lady bob of the 1990s, Sam Claflin is just really doin' the damn thing with his rock god follicles. Loving every second of it.
I'm Glad That Simone And Teddy Have A Bit More To Do So Far
One of the things that I was kinda disappointed by while listening to the book was how little a part Daisy's Black, disco-singing friend, Simone (Nabiyah Be), played in the proceedings. Obviously, I get that this isn't her story, and she's there as the one person who always supported Daisy with no strings attached, but I wanted her to have something else to do besides prop up her good buddy. Those behind the series seemed to agree, as even in the first three installments we've gotten to see the sexism she's dealing with, as well as getting a hint at her love life.
Meanwhile, Teddy (Tom Wright), who I don't believe had this surrogate dad relationship with Billy in the book (at least not one that was as explicitly spelled out as it is in the show), is also getting some more interesting things to do, and I love this in both cases.
It Really Does Feel And Look Like The '70s
This could have easily been one of the aspects of the adaptation that went wrong, but '70s vibes are definitely all over the look and feel of the show. The clothes and other styles are on point, but also, they didn't go overboard trying to make everyone sound like they were in the era, so it feels pretty realistic.
Hearing The Actual Songs Is Great
I was baffled by the fact that Jenkins Reid actually wrote even partial lyrics to many of the songs talked about in her book (writing a novel is hard enough by itself), so knowing that these tunes were later fully realized and recorded so that we could hear them in the series has been an added boon. There are some definite needle drops here!
I Can't Wait For The Next Episode
Honestly? I can't wait to watch what's next, and seeing as how I still have a pretty good memory of the novel that I so loved, that's no small feat!
New episodes of Daisy Jones & the Six (opens in new tab) hit Amazon every Friday.
Your Daily Blend of Entertainment News
Yennefer's apprentice, Gilmore Girl; will Vulcan nerve pinch pretty much anyone if prompted with cheese...Yes, even Jamie Fraser.