I Watched Viking Wolf On Netflix And I Have Some Thoughts I Want To Talk About
Why weren't there more vikings?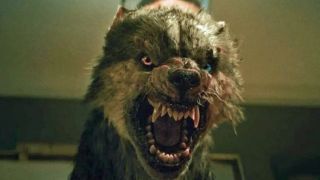 (Image credit: Netflix)
When you hear the title Viking Wolf, what image comes to mind? For me, it was a lycanthropic warrior wreaking havoc on a small 11th century village, which is why — in addition to its popularity on Netflix — I was interested in giving this new horror flick a try.
However, that turned out NOT to be what this Norwegian 2023 Netflix original movie was at all — save the detail about werewolves — which left me confused, and to no one's fault but my own, admittedly. Allow me to walk you through what went through my head as I watched Viking Wolf below.
Is It Bad I Found The First Sight Of The Wolf Kind Of Adorable?
The only real connection to vikings in Viking Wolf is a 1050-set preamble that reveals a group of plunderers accidentally released a "hound of hell" into the wild from a monastery. It might be because it reminded me of my own Australian Cattle Dog, but when this demonic creature flashed its toothy grin, I was not intimidated by it all. I wanted to take it home with me. Not the best way to start a horror movie, in my opinion.
This Girl Doesn't Think A Six-Pack Missing From The Fridge Will Go Unnoticed?
I soon discovered Viking Wolf is really teen horror drama when I met the young protagonist, Thale (Elli Rhiannon Müller Osborne), who then steals a case of beer from her very modestly occupied refrigerator before leaving for a friendly get-together. Maybe if she had just snagged one or two cans, I would have let it go, but seeing her attempt to sneakily smuggle the entire, unopened six-pack immediately convinced me our main character is not the best decision maker.
That Was The Most Underwhelming Interrogation Montage I've Ever Seen
I realize obligatory scenes of police questioning characters about an inciting incident is rarely meant to be a film's most exciting moment. However, I felt Viking Wolf's montage of teens being asked by cops — one being Thale's mother, Liv (Liv Mjönes) — about the animal attack from the night before did not really add anything to the story. To be perfectly honest, it was the first thing to momentarily take me out of the movie.
Well, They Certainly Did Not Hold Back For The Body Examination
Viking Wolf would manage to reclaim my attention relatively soon after with a shot of wolf attack victim, Elin (Silje Øksland Krohne), after her body was located. The sight is certainly not pretty and, easily, the film's most visually horrifying image, made worse when the girl's mother demands to see her daughter, much to the police officers' protest.
Calling It Right Now: Thale Is A Werewolf
Perhaps it was because I assumed the wolf that attacked her and her friends would continue to be the villain, but I do not know why it took me until I was 36 minutes in to realize our protagonist was becoming the wolf of the title (save the detail about vikings). Specifically, the thought occurred when Thale wakes up on her bedroom floor and, after showing up at school late, looks like she is going to puke, leading me to assume she had a bit of feeding frenzy the night before.
Are Hallucinations A Side Effect Of Lycanthropy?
I wonder if it was the strange dreams and bizarre visions that Thale begins to suffer from after the attack that was supposed to clue me in to her transformation. If such a thing is common to werewolf lore, I was not aware of that. Then again, I do recall David Naughton's character in one of the best werewolf movies ever, An American Werewolf in London, having a similar experience that included a weird nightmare about Nazi werewolves and visits by his dead best friend.
Digging The Scientific Explanation For Silver Bullets' Effect On Werewolves
Speaking of werewolf lore, Viking Wolf would be incomplete without any mention of silver bullets, which are the only thing that can kill such creatures. After Liv kills the wolf from the inciting attack, an animal expert named William (Arthur Hakalahti) points out in his examination that out of the several bullets she unloaded into it, the one silver bullet she had — given to her by a werewolf hunter she met earlier — was the only one to do any sort of damage. I like how the film took a moment to acknowledge this in a more analytical manner.
Oh No, She's Got Fangs!
Even though I saw it coming nearly an hour earlier, when Thale discovers that she has started to develop more animalistic features, it was a little unsettling. Some of the best horror movies in my opinion fall under the body horror category — such as The Fly or Slither — so any time a character undergoes a dehumanizing transformation such as Thale does in Viking Wolf, it tends to be very effective for me.
A Great Action Sequence Opportunity Wasted
When I said earlier that the interrogation montage was the "first" thing to take me out of the movie, I meant that it was just one of many moments throughout Viking Wolf that left me underwhelmed. The most disappointing to me, however, is when Thale is about to attack a bus full of passengers after a full moon engages her final transformation, but immediately cut to next scene before only showing the aftermath. Unless it had something to do with budget constraints, I will never understand why that potentially exciting display was left offscreen.
I Think I Would Rather Just Watch Ginger Snaps
By the time I finished Viking Wolf, I could not say that I would personally recommend streaming it if you have a Netflix subscription, but did come up with a good alternative option if you have a Peacock subscription. The 2000 Canadian thriller, Ginger Snaps — currently one of the best horror movies on Peacock, if you ask me (stream it here (opens in new tab)) — is another coming-of-age werewolf movie that handles the lycanthropic metaphor for teen angst a lot better, in my opinion.
You know, there are a few Norwegian Netflix movies I watched recently and ended up really liking, such as Troll — a monster movie I also had a lot of thoughts on — and Narvik, which is inspired by a real series of battles in Norway during World War II. I wish I could say that Viking Wolf was the latest Netflix original Norwegian import to impress me. Hopefully it works for you!
Your Daily Blend of Entertainment News
Jason has been writing since he was able to pick up a washable marker, with which he wrote his debut illustrated children's story, later transitioning to a short-lived comic book series and (very) amateur filmmaking before finally settling on pursuing a career in writing about movies in lieu of making them. Look for his name in just about any article related to Batman.