Joe Vs. Carole Is Getting Roasted By Critics, Here Are Some Of Their Best Zingers
By Heidi Venable published
The Peacock series is available for streaming now.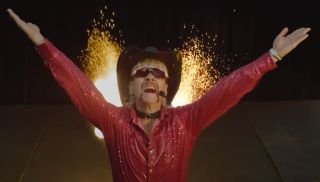 (Image credit: Peacock)
Many of the events of March 2020 are things we'd just rather forget. Schools being closed, sports being cancelled, learning to work from home, hoarding toilet paper. As we all tried to navigate this new life in coronavirus quarantine, millions found one way to come together — through the shared experience of Netflix's docuseries Tiger King. These big cat enthusiasts were larger than life, and their stories stranger than fiction. It was inevitable that Joe Exotic and Carole Baskin would be characters adapted for future projects, and with Peacock's Joe vs. Carole, that time has come.
Critics were able to screen the series ahead of its release, and well, it's tough out there in the wild. Despite starring the unquestionably talented John Cameron Mitchell and Kate McKinnon as the title characters, the critics seem to think this story was one best left back in 2020, and they are not pulling their punches. Let's take a look at the reviews — roasts are probably a better word for them — and some of the more interesting opinions about Joe vs. Carole.
Daniel Fienberg of THR says the cultural phenomenon "which captivated America between March 2020 and March 2020" is likely not worth a two-hour movie, much less an eight-hour series.
Brian Lowry of CNN says Joe vs. Carole arrives anew to our screens after the story has "exhausted its nine lives." (Cat puns, yay!) In fact, this review points out that Carole Baskin's real-life turn on reality TV proves how past its prime this series is.
Kristen Lopez of IndieWire says if Peacock is hoping for this to be its first breakout series, it "bet on the wrong cat," pointing out that even Netflix couldn't find more success with this story when it released Tiger King 2 late last year.
Brian Tallerico of The Playlist says the title Joe vs. Carole implies a fight, but somehow these larger-than-life characters have been made into "deadly boring" versions of themselves.
The performance of John Cameron Mitchell gets shout-outs from several of the critics, including Caroline Femke of Variety, who says he comes close to saving the project:
Richard Lawson of Vanity Fair also gives John Cameron Mitchell the credit he's due for playing Joe Exotic, but he and other critics think Kate McKinnon as Carole Baskin sometimes seems to be stuck in an over-extended Saturday Night Live sketch.
Rachael Sigee of inews says Peacock failed to recognize the Tiger King obsession for what it was — a moment in time — and says from the CGI tigers to the Halloween-costume versions of Joe Exotic and Carole Baskin, you just can't dramatize people already living as caricatures.
Other than a couple of good notes on the performances — namely John Cameron Mitchell as Joe Exotic — most of the critics seem to think the Tiger King era has run its course, and there's just not a lot of nostalgia for the early days of the COVID pandemic. However, if you think this series is for you, by all means, check it out! Joe vs. Carole is available for streaming with a Peacock Premium subscription, and be sure to also check out our 2022 TV Schedule to see what shows are premiering soon.
Mom of two and hard-core '90s kid. Unprovoked, will quote Friends in any situation. Can usually be found rewatching The West Wing instead of doing anything productive.
Your Daily Blend of Entertainment News
Thank you for signing up to CinemaBlend. You will receive a verification email shortly.
There was a problem. Please refresh the page and try again.