Luther: The Fallen Sun Is Trending On Netflix, And Fans Can't Get Over Its Wild Ending
Idris Elba fans are particularly excited for where this finale leads the character.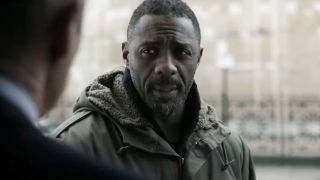 (Image credit: BBC)
Warning: slight SPOILERS are in play for the ending to Luther: The Fallen Sun. If you haven't seen the film yet, you've been warned.
Not all of the hits from the 2023 new movie releases have been released to theaters, as seen with the recent trending of Netflix's Luther: The Fallen Sun. A cinematic continuation of Neil Cross' fan-favorite detective series with Idris Elba, it hit the top of Netflix's movie charts around the time of its debut, and it's still going strong. Part of the reason for that, besides Elba's return to the iconic character of DCI John Luther, is the fact that fans can't get over the movie's wild ending.
Without going into too much detail, the means that Luther's hardboiled protagonist uses to solve his latest case leads to him getting the attention of some pretty important people. By the end of The Fallen Sun, John Luther is presumably being given a "job offer" from someone we only know as "The Chief." As you'll see in this reaction to Idris Elba's Twitter post celebrating the first place finish of Luther: The Fallen Sun, it's an ending that's sparking a very specific reaction:
No. 1 on @netflixThanks for tuning in. pic.twitter.com/Bp31Y6NEIbMarch 14, 2023
As a newly-minted Luther fan and a longtime James Bond fanatic, I totally agree with these feelings. With the iconic BBC/Netflix detective really being put through his paces in this first movie, there's only so many places John Luther can go next. And his skills have proven that he can engage in some work for His Majesty's government that most others wouldn't dream of doing. Here's another tweet backing that same call, along with another reaction for Luther: The Fallen Sun:
LUTHER : THE FALLEN SUN Probably the scariest look at the evil that could happen with digital eavesdropping Unlimited ability leads to unspeakable evil Story is a bit rushed to fit movie format but still riveting Given the ending, is Luther the next Bond?March 16, 2023
Nailing this all further into place is the fact that former 00-contender Idris Elba took himself out of the James Bond race. After years of people hyping him up for the job, the actor eventually decided to focus his efforts on Luther rather than chase that particular rabbit.
One can kind of see why, especially with this ending leaving the door open for the character to engage in similar action, but without the usual franchise constraints. Some have said as much, as you'll see in our next comment on The Fallen Sun's ending:
#LutherTheFallenSun was great, it felt a bit #JamesBond . Was the ending a set up for Luther to work for MI6 & to become the new bond ???? #Luther_The_Fallen_Sun @idriselba #LutherMarch 15, 2023
There are also some fun spy references in Luther: The Fallen Sun, one of which involves James Bond's drink of choice and a very fun dismissal. But even the events of the film feel like a take on Skyfall, as Andy Serkis' baddie David Robey engages in some theatrics that are very similar to Javier Bardem's Raoul Silva. Then again, that's not the only major franchise that John Luther's latest adventure has invoked, as we'll close out this roundup with a rather inspired connection:
Is Luther The Fallen Sun's ending a lot like Metal Gear Solid's ending or am I crazy? @DavidBHayter @HIDEO_KOJIMA_EN loved this movie and huge fan of the Luther series @idriselbaMarch 16, 2023
If Oscar Isaac wasn't already cast in the Metal Gear Solid movie, Idris Elba could have been a fantastic choice to play Solid Snake. Of course, it doesn't sound like we'll be worrying about that any time soon, as the success of Luther: The Fallen Sun might dictate that Netflix should get to work on a follow-up real soon. With the fans enjoying the movie and Elba primed to keep going, the iron is indeed hot. Those of you curious to experience this film can do so thanks to the advantages provided by a Netflix subscription.
Your Daily Blend of Entertainment News
Senior Movies Contributor
CinemaBlend's James Bond (expert). Also versed in Large Scale Aggressors, time travel, and Guillermo del Toro. He fights for The User.