Netflix's One Piece: What We Know About The Upcoming Adaptation
Luffy is coming to Netflix!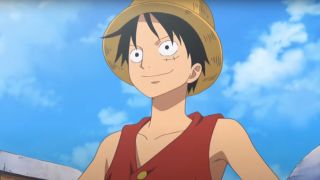 (Image credit: Netflix)
Manga and anime is something that I've been a fan of for quite some time. There's so much out there to watch, from some of the best ones that have been around for a while, to newer ones that have come out in 2022. However, there's one anime and manga that has been around for more than twenty years, and that, my friends, is One Piece.
The manga, which was later turned into a very popular anime, has been ongoing for an extremely long time, climbing itself up in the ranks as one of the most popular manga/animes of all time right next to Dragon Ball and, of course, Pokemon. And now, Netflix is working on bringing this popular manga to life in live-action form now. But when is this show going to come out? And who can we expect might star in it? For all your One Piece related questions, here is what we know so far.
What Is The One Piece Premiere Date On Netflix?
Get ready to mark this one down on your 2023 TV release schedule, because One Piece is set to come out sometime in 2023, though no exact date has been announced yet.
Another piece of news that was confirmed by Variety when the show was announced is that One Piece will have ten episodes. While it is a little unfortunate that it's only ten, hopefully they'll be long episodes, since Netflix tends to do that. Just look at Ginny and Georgia Season 2, which also had ten episodes.
Iñaki Godoy, Mackenyu, Emily Rudd And More Will Star
With any big-time live-action film, there's always the announcement of the cast that gets people excited, and thankfully, we already know a good portion of who is joining us on this crazy adventure across the seas. From the Netflix press site, the main characters for the Straw Hat Pirates have been cast.
This includes Iñaki Godoy as Monkey D. Luffy, Mackenyu as Roronoa Zoro, Emily Rudd as Nami, Jacob Romero Gibson as Usopp, and Taz Skylar as Sanji. However, we also had reports on other characters as well, in a casting announcement from Deadline.
Other cast members include Langley Kirkwood, Celeste Loots, Alexander Maniatis, Craig Fairbrass, Steven Ward and Chima Umeala. These six actors are going to be portraying Captain Morgan, Kaya, Klahador, Chef Zeff, Mihawk and Nojiko. Also included among these new cast members are Morgan Davies, Ilia Isorelýs Paulino, Aidan Scott, Jeff Ward, McKinley Belcher III, Vincent Regan and Peter Gadiot in undisclosed roles.
Talk about a full cast. But with a manga like One Piece, there are so many interesting and diverse characters that it makes sense the live-action adaptation would include a large ensemble of actors. But as long as they bring the full love of One Piece to the big screen, I'm not complaining.
One Piece Is Based On The Manga Of The Same Name
For those who don't know about One Piece, let me be the person to educate you right now.
The new Netflix adaptation is adapted from the manga of the same name, written by Eiichiro Oda (who actually is working as an executive producer for the series). This manga is the most popular manga series of all time, as it has been running for many, many years.
The basic premise of the manga is that it follows Monkey D. Luffy, a young man who lives in a world that is filled to the brim with pirates. Luffy is special as he is made of rubber thanks to eating a special fruit that makes him immune to electric attacks and most hits against his body – and also makes him able to stretch his body however he wants. However, Luffy has a dream – to become the King of the Pirates.
Understandably, this is no easy task, but he is inspired by his childhood idol, Red-Haired Shanks (otherwise known as Shanks to fans), and decides to form his own pirate crew to sail across the sea so he can find the legendary "One Piece," a treasure that no one has ever found. Once he finds this, he can proclaim himself as the ruler of all things pirate.
You would expect that a series like this with such a simple premise wouldn't call for it to go on for years, but no, this manga has been going on since before I was born. That's right, almost twenty-six years. There are 104 volumes and wow, there's so much content that it terrifies me to think how they're going to adapt all of this into a live-action series.
The manga was so popular that it became an anime not long after it first came out, starting off in 1999, and has 1,049 episodes. It also has had several films in the franchise – one of which came out in 2022, called One Piece Film: Red. So yeah, One Piece is quite popular, so who knows what story they will be telling.
Several Stars Have Confirmed They Finished Filming For Season 1
While we're not sure if all filming is fully completed, we do know that several stars confirmed that they were done filming for Season 1 of One Piece. Several Instagram posts were released from the stars that showed just how thankful they were for the opportunity to film this show.
Iñaki Godoy posted to his own Instagram on the day filming wrapped for him in September 2022, thanking his friends, family and the crew of One Piece for giving him the opportunity to portray Luffy.
Another one of the stars, Emily Rudd, who is going to play Nami, also thanked Netflix in her own post on Instagram when she finished filming in August 2022. And lastly, Taz Skylar, who is going to play Sanji, also took the time to show his appreciation to the crew of One Piece in his own Instagram post in August 2022.
Truly, there's so much here to look forward to already, and hopefully the rest of production is going well.
A Sneak Peek Revealed Some Of The Epic Sets That One Piece Will Have
While there isn't a trailer out there yet for One Piece, we were given a first look into the sets that we'll be seeing during the show thanks to a special behind-the-scenes video from Netflix on YouTube. Both the showrunners of the show as well as Godoy gave fans a sneak peek into the "massive sets" that fans were going to see in the show, and it already looks incredible. Be sure to check it out below:
You Can Stream Another Adaptation Of One Piece On Crunchyroll
As we wait for the live-action One Piece to hit our television screens, there is another adaptation of One Piece you can check out right now on Crunchyroll – and that's the anime version.
New To Anime?: The Best Shows To Watch When You're Just Starting Out
While you can check out other fantastic ones on the platform, such as Blue Lock or even the legendary Attack on Titan, you should probably start your One Piece binge now. You just might finish in time before the show starts. Maybe. Have fun!
Stream One Piece on Crunchyroll.
What are you the most excited for with this live-action series of One Piece? I'm already counting down the days until we get some sort of update on a premiere date. The sea must be explored.
Your Daily Blend of Entertainment News
Big nerd and lover of Game of Thrones/A Song of Ice and Fire. Will forever hate season eight. Superhero and horror geek. And please don't debate me on The Last of Us 2, it was amazing!