Paramount+'s Wolf Pack: 8 Thoughts I Had While Watching The Premiere Of Sarah Michelle Gellar's Supernatural Series
Here's what I thought of the first episode.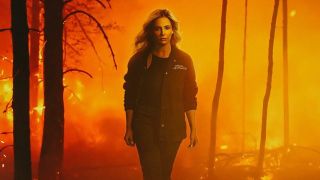 (Image credit: Paramount+)
SPOILERS are ahead for the first episode of Wolf Pack, now streaming with a Paramount+ subscription.
With two decades since the Buffy the Vampire Slayer finale on the horizon this year, Sarah Michelle Gellar has returned to supernatural TV for Wolf Pack. The series also sees Teen Wolf creator Jeff Davis bringing the next generation of werewolves to the small screen just as Teen Wolf: The Movie brings back much of its original cast on the very same day. As someone who watched Buffy as a kid and Teen Wolf as a teen, I decided to push play on Wolf Pack. Read on to see if the new series grabbed me.
Wolf Pack is based on a 2004 book by Edo Van Belkom of the same name I've admittedly never heard of. With that in mind, I really had no idea what to expect from the series when I checked out the first episode. Once I did, here are all the major thoughts I had while watching it.
A Los Angeles Fire Is A Clever Start To A Werewolf Series
Wolf Pack begins once a fire goes ablaze in Los Angeles, sending animals throughout the forest fleeing, apparently including a werewolf of two. Given that werewolf shows seem to begin with someone finding themselves in a forest under a full moon, this is an unexpected and rather clever start to the series. I liked how it really immersed the audience into the chaos of the fire as Everett and Blake are able to escape, but both receive mysterious bites. Also, there's some relevance to the story involving a Los Angeles fire, following the real-life catastrophes that happened in the region not too long ago.
Wow, This Show Is Way More Gory Than Teen Wolf
While Buffy and Teen Wolf were network shows, Wolf Pack is establishing itself as a streaming series right off the bat with some major blood and guts. At first it feels out of place, because I imagine a certain amount of sanitation with the teen supernatural series of the past, but upon the realization that Wolf Pack doesn't have to adhere to those rules, I got more excited. I can tell the show is really leaning into some horror elements as the werewolf of it all starts to reveal itself and these teens are realistic to Gen Z, which is nice to see as well.
Blake And Everett Are Going To Get Together, I Just Know It
Super early prediction alert: Blake and Everett are obviously being set up as love interests. The way that the camera slowed down when Everett watched Blake run off after they were just bitten is one dead giveaway of a few. The pair are both becoming werewolves at the same time, so you just know they are about to trauma bond all season and fall in love. That or one of them will secretly be in love and the other will be completely oblivious to it. Teen shows like this always have an element like this and believe me, I've seen enough of them to detect this. It's happening.
I Found Our Resident Angsty Teen With Harlan
Speaking of things I expect from a teen series, one character is especially coming in hot with the angst: Harlan. He is introduced hanging out at a gay club (probably with a fake ID) and making out with its DJ before his sister, Luna cuts their sexual tension with a knife by strolling in. I'm intrigued by this brother and sister werewolf dynamic from the get-go, but also a bit weary of teen show tropes all at once. It's very hard for the genre to break out and do something different. I have hope Harlan will be more than the rough-around-the-edges hot boy with daddy issues. He has the makings of an intriguing character, along with Luna, who seems to be his opposite, coming off as an absolute sweetie who is overly responsible.
I Really Hope The Park Ranger Makes It
One of my favorite scenes in Wolf Pack was when Rodrigo Santoro's park ranger took a break from his scary trudge through a Los Angeles forest to record a message to his kids about how much he loves and cares for him. It feels like the kind of message that Harlan and Luna may find later once their father has somehow died, but I really hope the character is not short-lived. Santoro is a talented actor of great series like Lost and Westworld and I'm hoping this dire message at the beginning of the series doesn't mean he'll soon be dead and gone.
Yes, I Loved The Yoga Breath Scene
Anxiety is something that is largely present in teens, but really isn't brought up a lot in series about them. So, I'm pumped that Wolf Pack is doing so with Everett and Blake. Everett's introduction had him on a call with a therapist and toward the end of the episode he imparts some wisdom from his own mental health experience by teaching her lion's breath. It's great to see these conversations being had on a series for teens, so yes, I loved that yoga breath scene.
CGI Werewolf Eyes Is A Choice, How Will They Look In Full Form?
We've heard in the past how much of a pain fancy contacts, such as in the Twilight movies, are for actors, so I get why Wolf Pack is using CGI wolf eyes, but it also didn't look the best in my opinion. A bit of cheesy effect choices are usually a given in supernatural series like Wolf Pack, but now I'm really curious about how the series will choose to adapt the other part of their werewolf identity. Will they have prosthetics like the Teen Wolf cast did, or go full CGI at all times?
Y'all, There's Not Enough Sarah Michelle Gellar
So, here's the big bummer of the series I was really hoping wouldn't happen. Sarah Michelle Gellar is barely in the first episode. I'm worried that Gellar will barely be in the series considering the show is really focusing on the core four teen werewolves. Gellar is also a producer on the series, so she is pulling double duty here, but after all this time away from supernatural series and some of her negative experiences on Buffy, I was really hoping her character would be more than episode cameos.
All and all, I'm mixed on Wolf Pack based on the premiere. There's some great elements of it I really liked, and other moments that show potential while other things bummed me out. I think I will give it a chance and , but the premiere isn't a complete sell for me right out of the gate.
Your Daily Blend of Entertainment News
YA genre tribute. Horror May Queen. Word webslinger. All her writing should be read in Sarah Connor's Terminator 2 voice over.