How To Watch Succession Season 4 Online And Stream The Final Season Where You Are Now
Say CEO you later to the award-winning HBO drama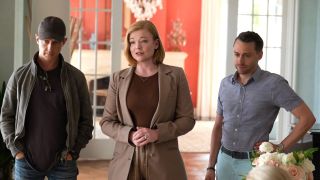 (Image credit: HBO)
How to watch Succession Season 4
Swipe to scroll horizontally
Watch Succession Season 4: synopsis
Business hours are almost over as the critically acclaimed, Emmy-winning HBO series begins its last 10-episode season. The biting black comedy-drama about the dysfunctional Roy family has raked in dozens of awards, including Golden Globe wins for Brian Cox, Jeremey Strong, and Sarah Snook. As it races towards its epic conclusion, we're bracing ourselves for one final boardroom battle royale. Catch all the drama with our guide below, explaining how to watch Succession Season 4 online.
Disloyalty, betrayal, psychological manipulation: Succession is a grimly funny manifesto on why not to go into business with your family. As Season 4 begins, Kendall's legal case against Logan (Cox) has imploded, and the Roy sibling's only hope of preventing the acquisition of Waystar Royco was sabotaged by Shiv's weaselly husband Tom (Matthew Macfadyen).
Locked out of company control as Logan prepares to hand over his billion-dollar business to Lukas Mattson (Alexander Skarsgård), Kendall, Shiv and Roman are banding together to take on their overbearing father. But, even in his 80s, Logan the Lion shows no signs of rolling over: announcing plans to create something "bigger, faster, wilder", and threatening to crush all of his enemies underfoot.
Who will inherit the Waystar Royco throne? And will Kendall, Shiv and Roman be left empty-handed except for their pink slips? Find out now and watch Succession Season 4 online with our streaming guide below.
Watch Succession Season 4 online in the US
We've reached the endgame of the critically acclaimed HBO drama. The fourth and final season of Succession will air on HBO on every Sunday from March 26 at 9pm ET / 6pm PT. HBO comes as a part of most cable packages.
Cord-cutters will find episodes added to streaming service HBO Max the very same day.
You can subscribe to HBO Max with plans starting from $9.99 a month, but to skip commercials and download shows to watch on the go, opt for its pricier $15.99 a month plan. Or save up to 20% by signing up to its annual rates ($99.99 or $149.99 a year respectively).
How to watch Succession Season 4 in Australia for free
You can catch Succession Season 4 on Binge every Monday from March 27, with episodes available to stream by 12pm AEDT. If you're new to the service, you could even watch the show – and other hit series and films – for free.
With Binge you can stream shows like Succession at your leisure and pay as little as $10 a month for your subscription. And that's after Binge's very generous 14-day free trial period.
Watch Succession Season 4 in the UK
For UK viewers, Succession Season 4 will be broadcast on Sky Atlantic. Brits are able to watch the show concurrently with US audiences at 2am BST every Monday, or at the far less anti-social time of 9pm BST in the evening.
Sky TV packages start from £24 a month. For a more flexible streaming option, you can sign up to NOW's Entertainment pass, which costs £9.99 a month with the option to cancel anytime.
Watch Succession Season 4 in Canada
Crave is the place get all HBO imports in Canada - and that includes Succession Season 4, the final part of Jesse Armstrong's sharply written and ferociously acted comedy-drama series.
Like in the US, it premiered on March 26, with new episodes every Sunday at 9pm ET / 6pm PT, with new episodes arriving at the same time each week.
You have a choice of two plans to subscribe to with Crave. Crave Mobile is its cheapest plan at $9.99 a month (+tax), but you're limited to a HD stream on one device. Crave Total costs $19.99 a month (+tax) with top resolutions and the ability to watch across four devices and download for offline viewing.
---
Succession Season 4 trailer
What is the Succession Season 4 episode release schedule?
· Episode 1: "The Munsters" – March 26
· Episode 2: "Rehearsal" – April 2
· Episode 3 – "Connor's Wedding" – April 9
· Episode 4 – Title TBC – April 16
· Episode 5 – Title TBC – April 23
· Episode 6 – Title TBC – April 30
· Episode 7 – Title TBC – May 7
· Episode 8 – Title TBC – May 14
· Episode 9 – Title TBC – May 21
· Episode 10 – Title TBC – May 28
Who will star in the Succession Season 4 cast?
Brian Cox as Logan Roy
Jeremy Strong as Kendall Roy
Sarah Snook as Siobhan "Shiv" Roy
Matthew Macfadyen as Tom Wambsgans
Kieran Culkin as Roman Roy
Alan Ruck as Connor Roy
Nicholas Braun as Greg Hirsch
J. Smith-Cameron as Gerri Kellman
Alexander Skarsgård as Lukas Mattson
Annabelle Dexter-Jones as Naomi Pierce
Dagmara Domińczyk as Karolina Novotney
Your Daily Blend of Entertainment News
Daniel Pateman has been a freelance writer since 2018 and writing for fun for much longer. He currently works across Future Plc brands like TechRadar, T3, Games Radar, and What Hi-Fi?, where he has produced detailed guides on the best streaming services and regularly writes How to Watch pieces informing our readers where to watch the hottest new films and TV shows.
In addition to his work with Future, Daniel writes broadly on topics across the cultural spectrum, including photography, sculpture, painting, and film, the latter being the medium closest to his heart. He's been published in Aesthetica, The Brooklyn Rail, and Eyeline magazine, interviewed various artists and has reviewed exhibitions within the UK and internationally. He's also commissioned by curators and artists to help produce catalogue essays, press releases, and museum wall text.